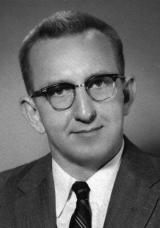 William L. Edwards (Pap) entered Eternal Rest November 5, 2012 at the age of 94.

He was born January 31, 1918 at Verona, Pennsylvania to David Edwards and Susan Edwards (Love). He married the love of his live, Martha Holbert of Elizabeth, West Virginia in 1938. They moved to Elm Grove, West Virginia and raised two children, Kathryn Belle and David.

During WWII Mr. Edwards drove trucks cross-country to supply the war effort. He became a Master Electrician and worked many jobs throughout the Appalachian region. He and Marty moved to Maryland to be closer to their children and grandchildren and he worked for Montgomery County Public Schools in Rockville, Maryland.

Bill and Martha enjoyed travel and in 1967 visited Expo67, the World's Fair held in Montreal, Canada.

He was an avid fan of crossword puzzles, and it was rare that there were not three or four worn-down pencil nubs and erasers by an open puzzle book on his desk. He was a voracious reader and enjoyed westerns and mysteries.

In 2007 Bill moved with his daughter and her husband to Green Valley, Arizona.

Bill was a 50 years plus member of the Masonic Order and active in the Presbyterian Church.

He had a dry sense of humor that was appreciated by all who knew him. His jokes and stories were always punctuated with a twinkle in his eye.

Bill is survived and missed by his daughter, Kathryn Gnau; five grandchildren; eight great-grandchildren; and four great great grandchildren. He was preceded in death by wife Martha, sister Margaret, son David, and great-granddaughter Caitlyn.

Bill took much joy in life, he always returned more than he received.

Services Will be 2:00 p.m. Monday November 12, 2012 at Matheny Whited Funeral Home of Elizabeth WV with the Rev. Lee Williams Officiating, Visitation will be be from noon on Monday until time of the service. Masonic Graveside services will follow at K of P Cemetery of Elizabeth WV.