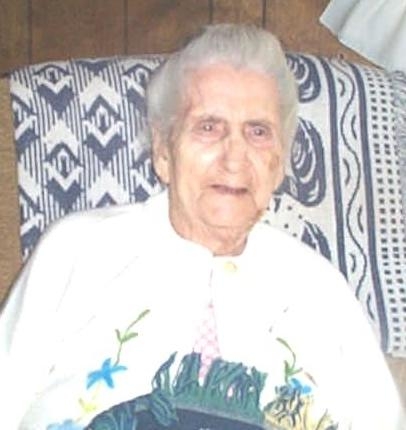 Opal J. Miller, 96, of Joker Community, Creston, Calhoun County, died July 23, 2002 at Minnie Hamilton Health Care Center in Grantsville.

Born in Calhoun County, she was the daughter of the late Oscar and Elizabeth Roberts Hughes. She was a member of the Bryner Chapel Church and was a homemaker.

Surviving, daughters and sons in law, Delma and Glen Dawson of Parkersburg, WV and Velma and Warren Dillard of Fairfax, Virginia; two grandchildren, Stanley Dillard and Sherry Eugenio; four great-grandchildren, Stephanie and Bradley Dillard and Joey and Chris Eugenio; niece, Leslie Hughes; five step-children, Wanda Miller, Donald Miller, Mary Riggs, Janet Thomas and Arnold Miller; twenty step-grandchildren; thirty-four step-great grandchildren and ten great-great grandchildren

She was preceded in death by her parents and her first husband Otta J. Deems in 1941 and her second husband Lexie Miller in 1998.

Funeral services will be held Friday, July 26 at 1 p.m. at Stump Funeral Home in Grantsville with the Rev. Carroll McCauly officiating. Interment will be in the Bryner Chapel Cemetery.

Friends may call at the funeral home from 6 to 8 p.m. Thursday.