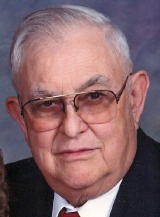 Rolley Johnson Wilson, 83, departed this life October 29, 2012, at The Heritage in Bridgeport, WV.

Johnnie was born July 28, 1929 at Apple Farm, WV; the youngest child of the late George Spence and Bessie (Stump) Wilson. He grew up on the farm and attended Lower Rush Run and Russet grade schools. In 1947, he graduated from Calhoun County High School.

After graduating from high school, Johnnie joined the Air Force in December 1949 and served four years before being honorably discharged in December of 1953. While enlisted, he married Helen Genevra Taylor, of Pennsboro, WV in December 1950.

Johnnie was called to DuPont, Washington Works in October 1955 and remained there for over twenty-nine years, mainly working as a mechanic. After retiring from DuPont, he went on to work for Nashua Photo for seven and a half years.

Baptist by faith, Johnnie was very active in church over the years. He was also a member of the Good Samaritan Club. He enjoyed playing the guitar and loved music and his family.

Johnnie is survived by a son, Robert Douglas Wilson of Clarksburg, WV; a daughter-in-law, Marlene Wilson of Augusta, GA; a granddaughter, Marlena Chantelle Wilson of Augusta, GA; a sister, Osa Merle Fowler of Grantsville, WV; and several nieces and nephews.

In addition to his parents, Johnnie was preceded in death by his wife, Helen (Taylor) Wilson, and nine brothers and sisters: Treacy Jane Stump, Reacy Anne Wilson, Hugh George Wilson, Bessie Margarete Ledsome, Eda Bertha Stalnaker, Donnie Forest Waldeck, Luke Spence Wilson, Mary Serepta Starkey, and Henry Calvin Wilson.

Services were held on November 3, 2012 at the Leavitt Funeral Home in Parkersburg. Burial immediately followed at Sunset Memory Gardens with full military rites provided by the American Legion Post 15.

Memorial contributions may be made to the American Cancer Society, 3901 Briscoe Road, Suite 10, Parkersburg, WV 26104 and the People's Hospice, PO Box 1680, Clarksburg, WV 26302.