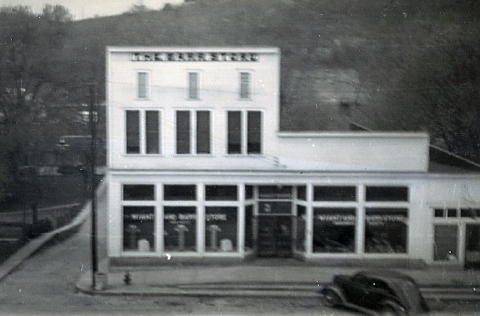 Courtesy of the David Hathaway Collection
By Bob Weaver
Grantsville, during its early history had a number of department stores, most of which carried clothing, dry goods, shoes and housewares.
The Wiant and Barr Store was likely the longest running of the department stores, in business from about 1890 through the 1940s, a 50 year plus history. In its early days was also a food market.
When Wiant and Barr went into business in the 1880s, Grantsville had a population of 125. By 1917, the population had increased to 350.
In 1914, Wiant and Barr sold the store to investors Asa B. Harris, W. J. Mathews and Jas. W. Barr after a 30 year run.
Wiant and Barr placed an ad in the newspaper, thanking the community for their support and asking customers to pay their bills: "We want to get our matters settled up as early as convenient and hope to see each and every customer within the next six weeks and settle."
"If in town don't fail to come in, whether you are prepared to pay or not and we will go over our account and balance up and make some arrangement about the payment in the future."
In 1887, a Calhoun Chronicle ad by Wiant and Barr gave some interesting grocery prices. Bacon was 15 cents per pound, butter eight to 10 cents, salt two dollars a barrel, coffee 25 cents per pound, honey 12 cents per pound, and white sugar was ten cents a pound.
In 1899, a newspaper account said temperatures broke the record "so far as the recollections of men in this section of the country are concerned," recorded on Wiant and Barr's store was 33 below zero.
The store was located in an area now occupied by the Stump Funeral Home parking lot on Market Street.
The store was sold to George Richards and later Dewey Howe, respectfully to be known as the Richards Department Store and the Howe Department Store.
Grantsville, during its history, had a couple dozen department stores, all fading by the 1970s.
Today, it's a Dollar General, Family Dollar and Walmart world.