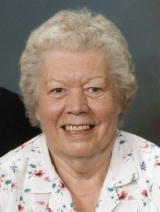 M. Madeline Tanner, 84, of Clendenin, West Virginia died October 15, 2012 at the Hubbard Hospice House in Charleston.

Madeline was born July 22, 1928 in Roane County, West Virginia a daughter of the late Burl and Sarah Meadows Payne. She worked at OJ Morrisons in Charleston for over 17 years and formerly worked at Kellwood Company in Spencer, She was a family person, and enjoyed going to church and quilting.

She is survived by a daughter and son-in-law, Debbie and Joe Cantley of Clendenin; a stepdaughter and her husband, Sharon and Gene Stump of Spencer WV; a grandson, Joe Cantley; three step-grandchildren, Clinton, Cassandra and Christopher; two sisters, Irene West of Parkersburg WV and Delores Reugall of St. Albans WV; and a brother, Clifford Payne of Dardenell, Arkansas.

In addition to her parents, Madeline was preceded in death by her husband, Hershel Tanner; three sisters, Hazel Simmons, Faye Drake and Gatha McKown; and a brother, Kenneth Payne.

Service 11:00am Friday, October 19, 2012 at the TAYLOR-VANDALE FUNERAL HOME, Spencer, with Revs. Joe Cantley and Bob Jett officiating. Burial will be in the Spencer Memorial Cemetery. Visiting hours are from 6:00 to 8:00pm Thursday at the funeral home. In lieu of flowers, memorial contributions may be made to the Taylor-Vandale Funeral Home, 206 Beauty Street Spencer WV 25276.