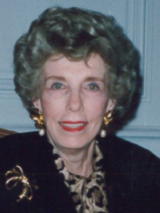 Anna Neale Hardman Houck Samworth passed away on October 12, 2012 in the Harris Hospice Unit of Presbyterian Hospital in Charlotte, NC.

Born May 22, 1916 in Spencer, WV she was the daughter of Grace and O. R. Hardman.

She was preceded in death by her first husband, Winton R. Houck in 1978 and her second husband, Leonard H. Samworth in 1990, her sisters Gwendolyn Jackson and Helen Hardman and her brother, Charles Hardman.

Survivors left to cherish her memory include her daughter, Gwen and husband Jon Brady of Charlotte, her son, Charles and wife Terri Houck of Beckley WV and grandchildren Cutter Houck and wife Emily of Beckley, Jon W. Brady and wife Alicia, and Chris Brady and wife Erin all of Charlotte. She also leaves four great grandchildren, Vivienne, John Luca and Stratton Brady of Charlotte and Anna-Neale Houck of Beckley.

Anna Neale was a graduate of West Virginia University and Katharine Gibbs School in New York. She was active in the arts in Charleston, WV and the Delhom Service League of the Mint Museum in Charlotte. Her greatest love was her family and traveling the world. She was travel chairman at Southminster and was at one time a representative of the Charlotte Friendship Force.

She attended Christ United Methodist Church in Charleston, WV and Christ Episcopal Church in Charlotte. She was loved by all for her sweet spirit and beauty. Anna Neale will be missed by the Southminster community where she resided for 23 years. The family wishes to extend special appreciation to Josephine Ragin, Christine Luke and Margaret Buckalew at Southminster.

Services will be held at S. John's United Methodist Church in Spencer, WV on October 17th, 2012 with visitation at the church one hour prior to the 2:00 p.m. service. In lieu of flowers, memorials may be made to Beckley Area Foundation for Dr. Winton R. Houck Wyoming County Benevolent Fund, 129 Main Street, Suite 203, Beckley, WV 25801.