LESTER MCCUMBERS DIED IN 2015 AT 93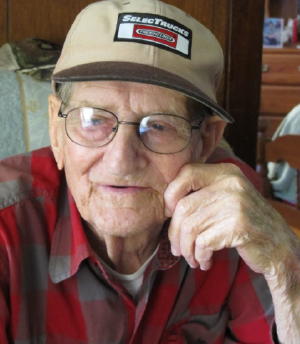 "I've lived a simple life, close to the earth,
and I have an honest record." -Lester McCumbers
By Bob Weaver
Ninety-one-year-old fiddler Lester McCumbers is a Calhoun treasure.
He had already learned to play a stringed instrument by age 14 and sing mountain tunes when he earned almost $10 to buy a Carson J. Robinson guitar from Montgomery Ward, made by Gibson.
Lester has gone on to become one of the most recognized performers of "pure" mountain music and is among the most award-winning, not only in West Virginia, but across the USA.
"It hasn't been that I'm a great musician, it's just that I'm different," Lester said, clinging to the original music of Appalachia.
"Music just gives me a lot of satisfaction in my heart. I've always tried to play the fiddle or sing a song to suit myself and the way I feel it."
He is now reflecting on his life.
Lester is the last surviving of nine siblings, children of Henry Franklin and Myrtle McCumbers.
"My dad never had any money and made the first fiddle I held in my hands," he said.
A lot has happened since his childhood days in the backwoods near the Bear Fork Wilderness, a place that spawned a number of the best known West Virginia mountain music makers, including many from the McCumbers-Cottrell clan. Most will say they had a music gene.
Despite all of the recognition, he says his biggest accomplishment was the raising of nine children.
He was recently given tickets to perform in Washington State and Australia, which he turned down because of health problems. "Since Linda (his wife of 72 years) died, I've slowed down a lot," he said.
"I just never wanted to leave these hills, but it was tougher than not leaving," Lester said. "I always worked in the woods to make a living, and it was hard, hard work and little pay. I timbered and had a sawmill or two myself."
Lester remembers during his childhood going into the Bear Fork to Wilderness to visit the early families who settled and lived there, some for several generations.
"Most never owned the land they lived on, but the Bennett family just allowed them to build and use the land," he said.
"I remember visiting the John Cottrell's log house with a dirt floor. He was the father of Noah Cottrell," another famous music man from Calhoun."
Lester said there was a lot of music playing. He recalled walking from Mount Run (Nicut) to the Orma Theatre to hear Grandpa Jones, a famous Nashville performer who played and sang. "He dressed up like an old man with a wig. Then he got old and didn't have to pretend."
"I went to the Mt. Zion Drive-In about 60 years ago to hear Lester Flatt and Earl Scruggs," he said.
Years later he played with a lot of old time musicians, like Bill Monroe, Steve Cooper and Wilma Lee, Ralph Stanley and Jimmy Martin.
About sixty years ago he went to play live on Spencer's WSPZ radio station (now WVRC) where Tom T. Hall was a DJ. "Tom T. would put us on the air, and sometimes sang a few tunes himself," Lester said.
Fifty years ago Lester and his wife went and played at the Walnut Festival. "I was suppose to go this year, but I just canceled because I don't feel very good."
"My how times have changed. I walked up to 20 miles a day to get to my NYA job," a 1930's depression-era program to stave-off starvation.
"People are no longer connected much to their place in the world," he said. "When I grew up, the most important thing was the circle of people around me."
Despite all of the recognition, he says his biggest accomplishment was the raising of nine children.
Lester's small house on Mount Run, which is about as old as he, has walls covered with family and musician photos, awards, and instruments (some home-made).
"I've lived a simple life, close to the earth, and I have an honest record. I'm proud of that," he concluded.
See LESTER LIVES HIS DREAM - McCumbers Fiddles On Grand Ole Opry Stage