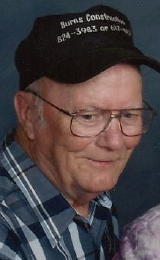 Franklin C. Grogg, 79, of St. Albans WV, passed away September 13, 2012 at his home.

Born at Widen, Clay County, he was a son of the late Ora and Gertrude Lamb Grogg.

He was retired from General Motors Corporation, was a US Army Veteran of the Korean War and attended the Faith Missionary Baptist Church of St. Albans.

Surviving are his wife, Rhoda Grogg; children, Debra K. (Donald) Bailey of Tuscon AZ, Carol Lynn (Garry) Shoaf of Windfield WV, Sandra Jean (Tony) Grogg of Sandborn Iowa, and Franklin Creed (Stephanie) Grogg, Jr. of St. Albans; brothers Gary Dean (Alma) Grogg of Medina OH, Teddy O'Neil (Charolette) Grogg of Stow OH, William Roy (Debra) and Ora Michael Grogg both of Buckhannon WV; 15 grandchildren and 15 great grandchildren.

He was preceded in death by his parents and his stepmother Bola Grogg; two brothers, Robert Lee Grogg and Paul Richard Grogg; three sisters, Carolyn Jane Grogg, Mary Sue Mullens, and Lottie Delorse Clouser.

Funeral services will be held 1:00 p.m. Monday, September 17, 2012, at the Stump Funeral Home in Arnoldsburg WV with the Rev. Dewey Tanner officiating. Interment will be in the Lamb Cemetery at Chloe with military graveside rites. Friends may call at the funeral home from 3:00-6:00 p.m. Sunday.