By Sheila Nichols Meadows

Although I was born in Spencer, West Virginia in 1949, my father Oral Nichols, my mother Lucy Oval, and eight of us nine children moved to Apple Farm, or Rush Run as we sometimes called it.

See NICHOLS WAS FULL OF GRACE - He Lived To Tell His War Story

We moved a few times during my first and second grades, attending elementary schools at Little Letherbark and Arnoldsburg.

My third grade report card shows that Bernice Stump was my teacher at the elementary school up the road past her home and it was 1958-1959. My younger brother, Millard (Turtle Man) Nichols, said that we moved to Apple Farm in 1956.

We lived up the holler on a narrow dirt road until I was a sophomore at Calhoun County High School. What a relief it was to move to town and have running water. I was starting to like boys at the age of sixteen and was a little embarrassed to have to direct them to our outhouse.

That was also the year that my hair turned from brown to auburn red. Must be different chemicals in the town water.

Much of my country life centered on the Rush Run Baptist Church, church and God the most important things in my father's life, then family came afterward. We spent every Sunday morning, every Sunday evening, and every Wednesday evening at this church, along with Vacation Bible School, revivals, sings, funerals, and other events.

My dad was a song leader, deacon, Sunday school teacher, and I can't remember what else, but it made me feel proud to know that he not only "talked the talk" but "walked it." And my mother was always sitting faithfully right there in the pew beside him, or singing alto to harmonize with his tenor.

They worked beside each other planting and hoeing their crops, fishing, hunting for ginseng and yellow root, and doing whatever else it took to raise us. They were married for sixty one years when he died in March 2004 and ended their "for better or for worse" vows.

We were pretty poor, but my father worked hard and it was nothing for him to work all day, come home at 5:00 p.m., eat dinner, then head back to another shift of work in order to keep us kids fed and clothed.

After all his hard years of labor at the Grantsville Garage, one day he had the privilege of owning it then sold it after he retired. Well, he didn't really retire. He had just finished painting an apartment the day he had his brain aneurysm.

While Dad was a good man and a good example, so were a lot of other people who lived up on Apple Farm, more like our extended family instead of just neighbors.

They were always there for us 24/7.

They were the ones who would pull you out of a ditch, even if they had their church clothes on. They never hesitated to help you out through depression, sadness, or any kind of trouble.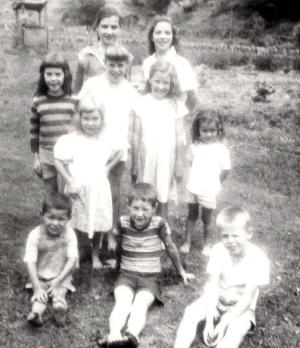 NICHOLS KIDS AND FRIENDS - (Bottom L-R) Garland Nichols,
Millard Nichols, Henry Wilson; 2nd row - Charlotte Nichols,
Annetta Nichols; 3rd row - Sheila Nichols, Linda Wilson,
Sharon Nichols; top row - Peggy Wilson, Gloria Nichols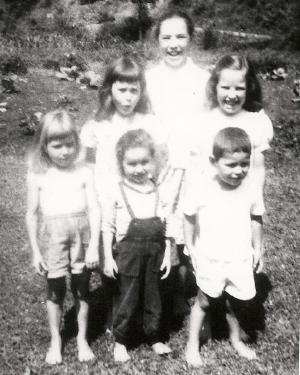 THE NICHOLS KIDS - (Bottom L-R) Charlotte, Annetta, Garland Nichols;
(Middle) Sheila, Sharon Nichols; (Top) Doris (Nicki) Nichols
Although I knew my parents wanted us kids to grow up with good morals and become Christians, they were not the reason I had made the big commitment at the age of twelve.
I was literally terrified to speak in front of people or even walk in front of people. So, I knew it was for real when the Holy Spirit came into my life and I was more afraid of not obeying Him than walking up front.
Back then everyone was baptized in the "river," and everyone sang the song "Shall We Gather At The River." Reverend Altop was our pastor at the time and he baptized me, along with my brother Millard and several other church members at the mouth of Bedbug in Steer Creek, just down the road from the Rush Run Baptist Church.
A few yards up from the church, the part of Steer Creek to the right of the bridge, held many fond memories as it was a source of food for our large family and a wonderful place to swim and cool down during the hot, humid summers.
On the left of the bridge was Hughart Stump's garage. We would walk the mile and two-tenths barefoot just to buy one of the bottles of coke in his pop machine. It was not very expensive at the time, maybe 10 cents. Of course that was expensive to us kids.
After sharing the bottle with other siblings or friends, I only got a few swigs, it was so cold and refreshing before we had to walk all the way back home.
Sometimes we walked past Stump's Garage about another mile to Keith Kendall's store. He was always such a pleasant man and seemed genuinely happy to see us kids. One thing people might not realize is just how much a smile or welcome can mean to a child who might have problems, or who might not be able to afford simple luxuries, such as having shoes to wear during the summertime. We did wear shoes to church and school, but hand-me downs were common in our family.
Since I was the fourth daughter down, you can guess how excited I was to get one new dress and a pair of jeans at the beginning of school. I didn't own a new coat until I started babysitting for my two-year old niece Shawna, when I was in high school. I bought a green, three-quarter length corduroy coat.
If people could have read my mind, they would have known that I walked around feeling like a queen in that coat. Us Nichols kids were certainly blessed with good people in our childhoods to make up for lack of material things.
Teachers are so important in our development and in our future. Delma Jean Burns was my fourth grade teacher in 1959-1960. She was interested in the arts and got me interested in sketching, water colors and other types of art.
My sister Doris (Nicki) said that it was Mrs. Burns who was instrumental in bringing in a music teacher who taught Nicki some beginning coronet lessons while Gloria played a trumpet for a short while.
Mrs. Burns was such a caring person and thought my little sister Annetta was so cute that she took her home with her on several occasions, and even found a medicine to cure psoriasis on Annie's arms, neck, and face.
Bernice Stump returned as my fifth and sixth grade teacher in 1962, and I cannot begin to tell you everything that I learned from her besides the three R's. Marguerite Underwood was my seventh grade teacher.
Each of these teachers encouraged me and my brothers and sisters and gave us a good preparation for high school and life.
The following year, in 1963, the elementary school closed on Apple Farm and we had to walk down to the bridge at Steer Creek to a bus stop to catch the bus to attend Russett Grade School for my eighth grade. It sure seemed longer than the under two miles each way when it was hot and humid, pouring rain, or snowing with bitter cold wind blowing.
Roscoe Gainer was my teacher and he was great. As part of an English assignment, I was required to write a poem, my very first. When I look back, the poem wasn't that great, but Mr. Gainer bragged on "Horses," so much that it gave me the confidence to become a poet and a songwriter later on in life.
Before moving to Grantsville, Dad had bought the house that we lived in on Apple Farm from Arl Stalnaker, right down from Hughart and Bernice Stump's place. I remember well the two-story house and how us kids would run up and down the stairs, even though Mom would tell us to stop.
Actually, I was afraid of the dark and the ghosts that might be following me in the stairway, and that is what always made me run. If I had a good book, I would spend hours sitting on those same stair steps reading until 2:00 a.m. in the dim hall light, the "ghosts" couldn't even stop my reading.
This house had a long porch that us kids and friends spent many hours on, wrapped up in a blanket while watching the rain fall or lightning streak the sky, eating icicles dripping down from the roof, or washing our hair in the rain coming off the roof.
There were three bedrooms downstairs and two bedrooms upstairs. My parents' bedroom was downstairs, my two brothers Millard and Garland shared a room, and Doris stayed in the other downstairs room.
One bedroom upstairs had two beds, one of which my slightly older sister Sharon shared with me, while younger sisters Charlotte and Annetta shared the other bed. Gloria had the other upstairs room until she got married.
After Doris left home, the downstairs bedroom was used by our older brother Larry or by relatives or guests who visited. Larry had lived with my paternal grandparents to help them with their big farm on Henry's Fork during most of our childhood. It was great for him to come and be part of our family for a few nights. What a treat it was when my friends who had a smaller amount of siblings invited me to spend a night of quiet.
I still find it difficult to imagine how all of the neighbors up and down the dirt road at Apple Farm seemed to allow us kids to be on their properties. Maybe Dad had asked their permission or maybe we had enough friends to play with and were on the property because of them, but it sure seemed like we had miles and miles of land to explore.
Hughart and Bernice Stump were very important adults in my life and were well respected and very good neighbors that were always there to help when needed. My Dad gave them permission to treat us as their own kids when we were visiting them.
That meant that they could get a belt out, or cut a willow switch, and whip us if we got out of line. If Bernice or any of our teachers gave us a paddling in school, we could be sure that our parents would follow up with one at home.
Authority figures were just that, authority in control. Of course, I didn't tell my parents the time that Bernice whacked my fingers with a pencil and scared me half to death. She must not have told them either, because I didn't get a whippin' and I never got whacked anymore.
By the time I was in fifth and sixth grade, we were on much better terms as I matured and she became a friend who would allow me to take spelling tests along with the eighth graders, since I was a "straight A" speller.
Of course she never let them know that I was taking their tests and doing great. When Russett School kids came up to play softball at our school one time, Bernice actually told Roscoe Gainer that I was very smart and was a great student. I remember being worried that I might fail to live up to her confidence in me, which made me try even harder and succeed.
Linda Wilson, Hughart and Bernice's niece, was one of my best friends. She visited them often and we spent many summer days at the Stump's home playing with McCall cut-outs or playing croquet in their back yard.
The Stumps seemed like very rich people, so I was surprised when Millard told me recently that we were the first family at Apple Farm to have a television. I had thought that the Stumps had been the first, since we didn't have much money to splurge.
Millard said that the first program on that television, once we had the antenna up on the hill and turned to receive a signal, was a Bugs Bunny cartoon.
We were good neighbors by allowing other neighbors to drop by for a friendly visit, or just for a peek at the programs. We definitely felt that we were "moving on up."
Hughart also had a heart for young people from the church and would take us in the back of his truck on outings. He could never know how much fun it was to be doing something important, such as cleaning up a neglected cemetery.
Hughart and Bernice actually trusted me to babysit their son Steve when he was just two years old. I remember feeling guilty for taking money because it had been so much fun playing with Steve and all his neat toys, and also Bernice made sure I had treats while I babysat.
Were so thankful for was that sometimes Bernice would pick me and my siblings up on the way to school when it was freezing cold and the snow was blowing fiercely.
Nicki remembers when she and Sharon Tingler were in seventh or eighth grade and they were paid a small amount for doing janitorial work at the Rush Run Grade School, sweeping and helping to oil the one-room school floor, washing windows, dusting the chalkboard, and emptying the trash. Nicki appreciated that extra money and it was probably given to her straight out of Bernice's pocket.
Hughart's parents, Saul and Treacy Stump, were great neighbors. Since Treacy was the postmistress, we saw her on an almost daily basis, sending mail and receiving it there.
When their granddaughter Debbie visited them, she always asked me to go riding with her on one of the two Shetland ponies at the Stump farm.
My Mom would round up all the kids and we would head up the meadow to take refuge at Saul and Treacy's house when a flash flood would come roaring down Rush Run, turning it into a frightening river.
Nicki said she remembered how frightened I was of the mud slip on the hill beside the meadow during a flash flood. She said, "Don't be afraid. God will take care of us."
God was surely our greatest neighbor growing up, because we did some very dangerous things at Apple Farm, such as jumping in the creek when it was flooded and swinging wildly on grape vines from a hilltop over a deep valley. Surely God had to send a lot more angels to watch over the Nichols kids during some of our adventures.
Saul and Treacy were a couple who had a lot of property and a beautiful home, but they were helpful and gave employment to a lot of people who were willing to work.
My oldest sister Gloria said she earned a little money by working for them by putting up hay, feeding the calves in the wintertime, helping in the garden, and milking the cows at times.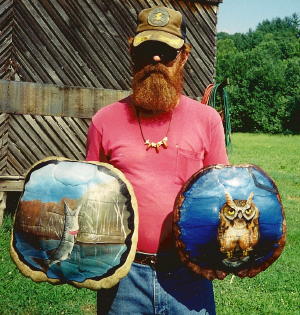 Millard Nichols is Calhoun's "Turtle Man"
Millard said that Saul allowed him to work at the age of eight and that Saul paid him the sum of 50 cents an hour, just like he paid the adults. Millard was allowed to work the mules (Tom, Jerry, and Jack), and was trusted to plow the fields on the 1010 John Dere tractor, cut filth, and put up fields of hay with Saul, and helped take care of the horses Fred and Mary. He helped feed cattle at eleven different locations.
In return, Saul made sure that this barefoot, freezing child was clothed with socks, gloves, artics, etc. because Dad's salary for working long hours was still not enough to supply all the children with necessary items.
Gloria remembered a bucket of apples that Treacy kept by the kitchen door and would offer her one after work duties were finished. Doris (Nicki) told me that Treacy gave her a piece of antique glass work which was probably worth a lot even back then.
Some of my best memories were of times when Treacy invited us into her kitchen for wonderful refreshments. My imagination let me pretend that I was having tea and cookies with the Queen of England. Maybe being poor had its advantages, since pretending gave me such a wild imagination for writing stories, plays, and songs.
Saul and Treacy also allowed our family to pick berries on their property in Bedbug, with Treacy getting 1/3 of the berries. We were grateful to give her that share for such a delicious treat to fill our ever-demanding hungry stomachs. Mom would never go on someone's property and pick without paying so it worked out well for both parties.
Willie and Mae Suttle and their children helped us pick many buckets of berries on their property. There was one bush of red raspberries and they were more precious than gold to me. They melted in your mouth and it was hard to remember that we weren't supposed to eat them, but to fill our buckets. Years later, I wrote song lyrics about our berry picking because of the wonderful jams and jellies Mom made.
If anyone plays banjo and fiddle, I have a melody in my head for a berry picking song and I'd love to get a demo of the song made. I'd pick berries in order to pay for the demo.
Joann Suttle was one of my friends a few years before they moved away. We had fun playing a game that even her parents played with us, which was called "Hide the Button."
I will never forget the time that Joann and I got the worst case of poison ivy that either of us had ever had. Her eyes swelled shut because the rash on her face was that bad. I've been scared of poison ivy ever since.
Virgil (Budge) and Ella Mae Kendall moved near our house on Apple Farm and became wonderful neighbors. Budge reminded me of a big brother and he really listened to us kids when we spoke. Annetta reminded me of an instance when she was very small and wanted to lift the lever on the hay rake in order to drop the hay into rows.
Budge was patient and allowed Annetta to take a turn riding on the hay rake and even though she didn't have the strength, he would let her try to lift the lever. It was just before she left Apple Farm at the age of 13 that she finally could pull the lever.
Many times, I would watch as Budge plowed our field while Dad was working long hours, so that Dad would have a head start in getting our garden started.
Budge also plowed up our potatoes when they were ready and helped with the hay. Once, when the flood waters washed our bridge away, Budge got a rope and helped pull it back into its proper place so that it could be tied securely.
We spent many hours swimming in a big pool of water in Rush Run on their property, and we spent many hours in their home, especially after baby Dale came along.
Later on, Gloria married Budge's brother, Pat Kendall and I was glad that. Through this marriage, Budge and Mae really became part of our family, kind of like an extra uncle and aunt.
Millard said that Pat had spent time with him when he was young, took him fishing, bought ice cream cones and cans of pop. He loved this attention and fun. The two brought bass back home with them from the fishing holes.
Budge's parents, Holly and Delphia Kendall, bought our house when we moved to Grantsville. After Holly passed away, Budge and Ella Mae moved into the house to care for Delphia.
Although Budge passed away several years ago and the house burned down, Mae continues to live on the property and I'm glad that familiar friends lived in it after us.
They always welcomed me warmly when I came in from Arizona throughout my thirty eight years away from West Virginia and came to Apple Farm.
There were other neighbors who helped in unexpected ways. Once when Doris (Nicki) fell into our well, she yelled for help and one of the Sidwells (and perhaps Clyde Metz) came running down off the hill where they were clearing brush and helped her climb out of the well.
Millard asked me not to forget the many times that our Uncle Elza and Aunt Myra Waggoner gave him dozens of eggs and chickens to help feed our family, also giving us homemade jackets for winter use.
Out in the country, it seemed that it didn't matter if the kids came from a well-to-do family or were poor. We all played together. Some of my other friends at Apple Farm included Linda Wilson, Sharon Stump, Martha Campbell, Violet Tingler, and Terry Stull, who came over the hill from Russett to visit me.
There were also the Minneys, Fowlers, Gainers, Richards, Shocks, Conrads, Vannoys, Kerbys, and many other people who were good neighbors and who invested in our lives.
After being gone from West Virginia since 1969, except for visits, I'm anxious to find out if everyone is still as wonderful as I remembered them back in my childhood days at Apple Farm.