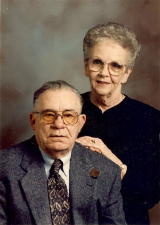 Okey Miller, 89, of Newton, passed away Friday, September 7, 2012, at his home, after an extended illness.

He was a retired employee of Union Carbide Corporation, Alloy, W.Va., retiring in 1976; he was an Army veteran of World War II and a member of the Newton Baptist Church since 1961.

Survivors include two daughters and sons-in-law, Carolyn and David O'Neal of Oak Harbor, OH & Sandra and Delmis Tallman of Newton; grandchildren, Stuart and Dana Smith, Sharon and Alan Fuchs, Bill and Colleen Smith, Coy and Paula Tallman, II and their son and daughter-in-law, Matt and Mandana Tallman, Deanna Hammonds and her son, Noah, Alisa Miller and her son, Dakota, Keith and Jennifer Miller; additional great grandchildren; sister, Maysel Rhodes of Doylestown, OH.

Okey was preceded in death by his wife, June Brannon Miller in 2007; son, Jerry Miller; parents, Cary and Sarah Hall Miller; four brothers and five sisters.

The family would like to thank everyone for their phone calls and prayers. A special thank you is given for the nurses and aides from Kanawha Hospice, who helped Sandra and Delmis and their family care for Okey during the final weeks of his long illness.

A funeral service will be held Monday, September 10 at 1:00 p.m. in the John H. Taylor Funeral Home, Spencer, with the Rev. Basil Wayne Smith officiating. Burial, with military honors, will be in the Clover Cemetery, Clover. Friends may call at the funeral home from 5-8 p.m. Sunday.