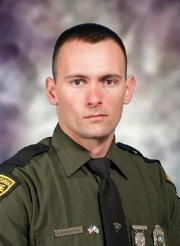 2012

Trooper Eric Michael Workman, 26, following a funeral at the Charleston Civic Center, was laid to rest in the Workman Family Cemetery at Ivydale in Clay County.

Workman and fellow officer Cpl. Marshall L. Bailey were gunned down at the Wallback I-79 interchange on August 28.

The trooper had been assigned to Calhoun County, but had recently been sent to Clay County.

A large crowd of Workman's family members, friends, fellow State Troopers and police officers from across the nation heard several speakers review the Clay County natives life.

State Police Chaplain Corporal Jim Mitchell said "He was willing to charge the doors, chase down the suspects, fight the obstructer, because he knew that fighting the evil of society was a calling greater than himself."

Related to his love of the outdoors and sports, Charleston Pastor Mike Long said, "He taught us that it's not only the fancy things, the big things, the expensive things. He taught us and those who knew him that most generally the things that bring us the most happiness are the simple things of life."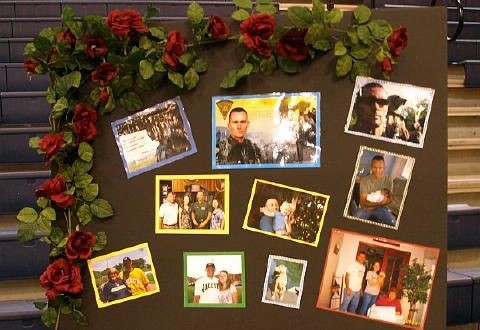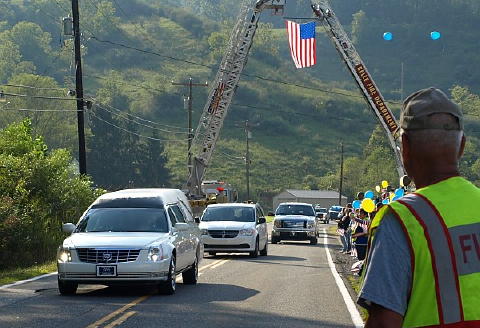 Chaplain Mitchell ended with, "The mission was worth the possible cost. It was definitely worth the risk and so he went forward every day placing his life on the line for you and me. For people he did not even know."
"Eric started slow, but he finished strong."
"He was an organ donor, and although his life was cut short here on this earth, because of his ultimate sacrifice many will live richer and fuller lives," said family members.
Hundreds also came to a candlelight vigil at
the Clay courthouse (Clay Communicator Photos)
See related story MOURNERS VISIT SITE OF TRAGIC SHOOTING - 'There Are Truly Evil People,' Makeshift Memorials And Messages
See complete obituary Eric Michael Workman