10/13/2018 - One of Grantsville's "grand dames" has died - Jackie Robinson, who lived at Russett, was 86.

Jackie relished the living, not only people, but the wide array of flora and fauna she nurtured on her property.

She was a family and people person, often having get togethers in her carefully decorated home, and was well-known to the Calhoun Community as a member of the Board of Education, a former employee of the Calhoun Chronicle and many civic activities.

She frequently recalled her years as a member of a woman's group that met on most days for lunch - The Silver Girls.

Funeral arrangements are being completed.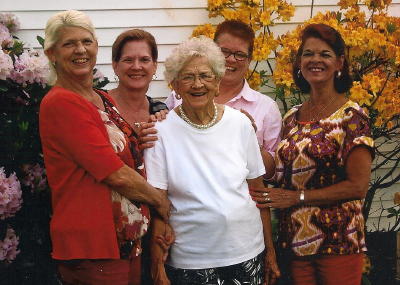 Jackie Robinson in center with her daughters, shown left to right,
Charlotte Siegrist, Pamela Holbert, Debbie Campbell, and Shana Arison

By Bob Weaver 2012

"Where did they go, all those years," she said, while busying herself in her well-kept home surrounded by flora and fauna.

"I've always stayed busy," she said, over the years working at the Calhoun Chronicle, serving on the school board and many other civic activities.

Jackie, more often than not, laments of the stalwart community members who once graced the landscaped, having gone on.

"I really miss them, their grace, ideas and humor," many who once met daily for lunch in Grantsville, calling themselves the "Grantsville Silver Girls."

"We didn't like to be called golden," she said, "Sounded too old."

"There are few days that I don't think of these woman, who gave much to me," she concluded.

See more GRANTSVILLE'S SILVER GIRLS - The Lunch Bunch

KOFFEE KUP LUNCH BUNCH REUNITES - Mary Ann Barrows Visits

"THE MOST BEAUTIFUL EVER GROWN" - Jackie Robinson's Flora And Fauna

LET THE PARTY BEGIN - Jackie Robinson's Annual Christmas Event