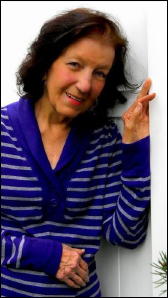 Bernadene Yoak, 83, of Big Springs, West Virginia, was called home to be with her Lord and Savior, August 5, 2012.

Surviving are her five children, Barbara Stump (Michael) of Kissimee FL, Michael Yoak (Molly) of Five Forks WV, Beverly Stump of Parkersburg WV, Randolph Yoak (Tambree) of White Pine WV and Douglas Yoak (Jaqueline) of Nobe WV; 10 grandchildren and 12 great grandchildren; one sister Diane Barr (Roland); two brothers, Leo Hopkins and Olen Hopkins (Gene).

Bernadene was a beautiful, vibrant woman who deeply loved spending time with her family and friends and Friday nights at Al's country music and blue grass sings. She was a lifetime member of the Millstone Church of Christ and made her life's mission to pass her love of God on to her family. She will be greatly missed and dearly loved every day of our lives.

She was preceded in death by her husband Demas E. (Bud) Hopkins, her parents Everett Lee and Chloe Hopkins and her siblings Don Hopkins and Ermagene Richards.

Funeral services will be held Wednesday, Aug. 8 at 6:00 p.m. at the Stump Funeral Home in Grantsville. Pastor Richard Vanhorn and Pastor Rick Metheney will officiate. Interment will be in the Hunt Cemetery at Big Bend. Friends may call at the funeral home one hour prior to the services.