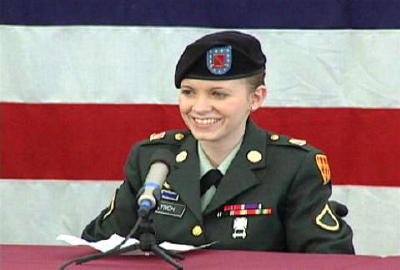 "It's great to be home"
Photo by Dave Smith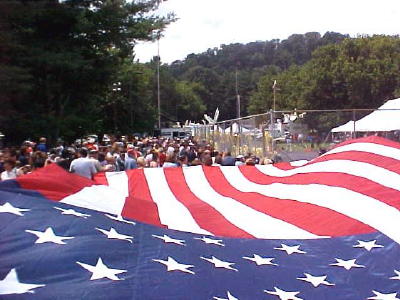 Thousands crowd into Sportsman's Park
Photo by Bob Weaver
By Bob Weaver
Republished from 7/26/03
It seemed a little surreal, the return of former POW, PFC. Jessica Lynch to Wirt County, a country girl who joined the Army to serve her country and eventually become a kindergarten teacher. Her long journey from quiet Mayberry Run to the cradle of civilization, now war torn Iraq.
A few months ago several hundred stood and knelt in front of the Wirt County courthouse, humbly praying to the Almighty, asking for her safe return. A few days later, word came of her rescue.
Millions of dollars of up-link satellite trucks, TV cameras and hundreds of reporters behind secure barriers or out on the street of sleepy Elizabeth, mixed with the local folk whose most excitement till now was a Tiger's championship game.
Lester Holt of MSNBC interviewed the citizenry with that "How do you feel?" question. Helen Burns (now deceased), a Calhoun native, who helps operate the restaurant in the old depot, said she had been interviewed several times. A customer said everyone in Wirt County (population less than 6000) has been interviewed at least three times, provided they came out of their house.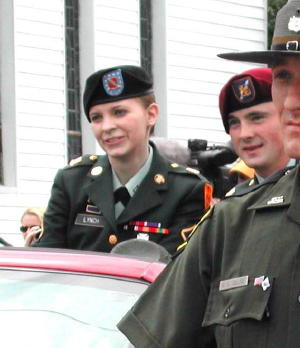 Jessi and brother, Greg
Photo by Diane Ludwig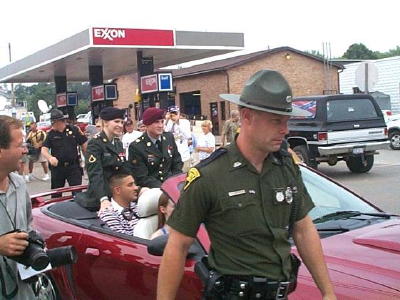 On her way to Mayberry Run
Photo by John Griffin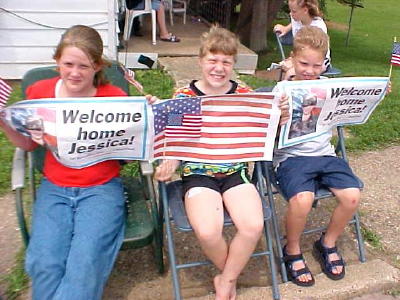 Flags, banners and homemade signs along Rt. 14
Photo by Bob Weaver
Our reporter and photographer from Wirt County, John Griffin, obtained an official press pass for the Hur Herald. I tried to get in using my Golden Mountaineer Card, but got rejected.
Security choppers flew overhead, several at a time, creating that ominous sound associated with war or disaster. Snipers were visible on buildings along Route 14 and police were everywhere, including up and down the Little Kanawha River behind the park where Jessi read her statement.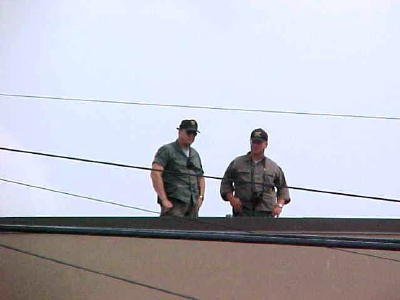 Snipers visible on town buildings
Photo by Bob Weaver
Calhoun folk seek shade (front) Patti Stump and Millie
Trippett (back) Briana Blankenship and Amanda Richard
Photo by Bob Weaver
Jessi was seated on a convertible and whisked up he main drag through Elizabeth and on to Palestine, waving at thousands of well-wishers from the area.
The Jessica story has taken many twists and turns, the subject of government and media overplay and political debate.
Lynch herself, in a book about her life, said the events around her heroics were largely manipulated by the government to support the war cause.
For those of us who live here in the hills of West Virginia, the story is much simpler.
Jessi's life is answered prayer and she is home where she belongs.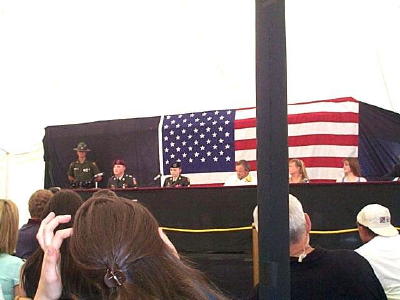 Specialist Greg Lynch introduces his sister at the press conference
Photo by John Griffin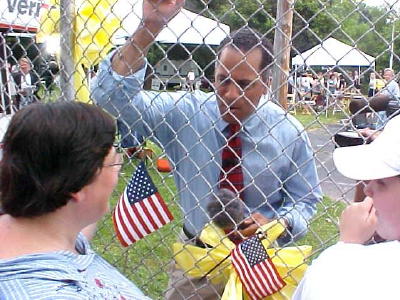 MSNBC's Lester Holt interviews Wirt natives
Photo by Bob Weaver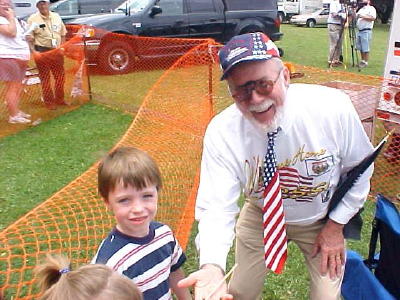 Secretary of State candidate George "Earl of Elkview" Daugherty
Photo by Bob Weaver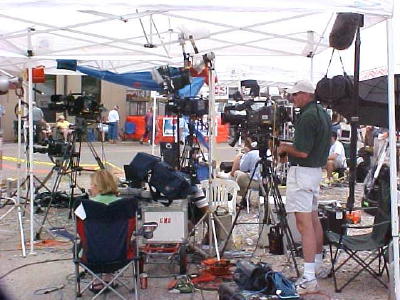 Dozens of satellite trucks and TV cameras along route
Photo by Bob Weaver