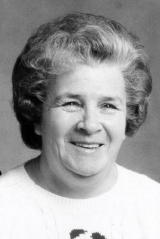 Elizabeth "Ann" Nicholson passed away Saturday July 21st, 2012, in the Memorial Division of Charleston Area Medical Center after an extended illness. She was surrounded by a large group of family and friends who were blessed to be with her for a very spiritual and moving event.
Born on May 5, 1929, in Mannington, WV. Ann spent 83 wonderful years as a housewife, secretary and utility business manager. Ann was the daughter of the late Harold Parrish and Lurene Sandy Parrish. She graduated from Mannington High School in 1947 and she was married to the late Charles "Nick" Nicholson for 57 years.
She was the proud mother of three children, six grand children, four great-grandchildren and numerous nieces and nephews. She was preceded in death by her husband and parents, a sister Virginia Waddell, and a brother Donald Parrish.
She is survived by her children, Greg Nicholson of South Charleston WV, Bill Nicholson and his wife Karen of Buchannan WV and Kim Roush and her husband Greg of Mason WV; granddaughter Amanda Stoffel and her great granddaughters Sydney and Kendal of Charleston WV; grandson Matt Nicholson and his wife Angie and her great grandson Nick of South Charleston WV; grandson Kevin Nicholson and his wife Jan of Morgantown WV and granddaughter Jamie Nicholson of Fairmont WV; grandson Chris Shambllin and great grandson Isaiah, currently of Paris TX; grandson Charlie Shamblin and his girl friend Robin of Glenville WV; niece Donna Rahall of Charleston, WV who took a very active role in her care and well being.
Ann enjoyed her family and the many activities that they were involved in. She was a member of the Trinity United Methodist Church, the Glenville Rebeka Lodge and the Glenville Eastern Stars, the NCT Camping Club and a former member the Glenville Lions Club. She was especially proud of the fact that she and her husband, and their three children were 4-H All Stars.
Ellyson Mortuary, of Glenville, WV is in charge of arrangements. Friends and family may visit at the funeral home Monday evening between the hours of 4:00 and 8:00 p.m. Funeral Services will be held at the same location on Tuesday, July 24th at 11:00 a.m. Friends and family may also pay their respects for an hour prior to the services. Burial will be in the Meadow Lane Cemetery south of Glenville, WV.