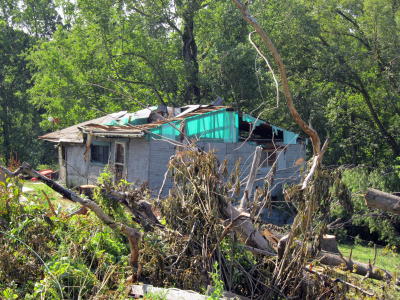 Houses and buildings received damage from storm, shown
here a building near the Calhoun-Ritchie line, Rt. 16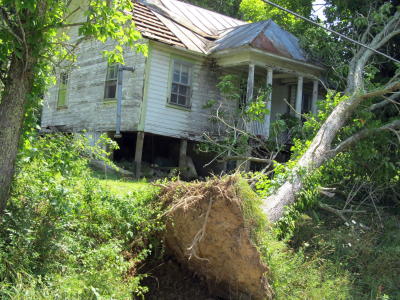 Thousands of trees in Calhoun's vast forest have been uprooted, with the county VFDs and neighbors quickly opening the highways
6/29/2012
Nearly 500,000 households have been without power in West Virginia following Friday's (June 29, 2012) storm, and some areas may not be restored until the weekend.
President Obama has declared West Virginia a disaster area.
The state has issued a broad-sweeping state-wide boil water advisory.
The NWS says winds gusted at 100 mph in Preston County. In Calhoun winds gusted 70-80 miles per hour.
Between 2,000 and 2,500 electric customers are still without power in Calhoun County as of Tuesday night.
Pleasant Hill PSD water customers have been without water, but service was being restored Monday afternoon.
A tour of the county Tuesday showed hundreds of broken power and telephone lines downed by falling trees, with the sound of electric generators at many houses.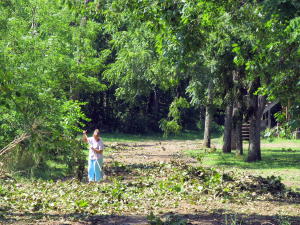 Residents have been working on clean-up,
shown here a woman on Munday Road
The central part of the county and some other areas have power restored, some of it early on following the storm.
Evidenced throughout the county is the hardy survival skills of residents and the admirable spirit of neighbor helping neighbor.
Calhoun's emergency responders have risen to the call to duty, time after time.
A large number of power crews are working in the county, often in high heat conditions.
Most of the northern part of the county was without service, and sections of southern Calhoun.
Telephone service is spotty in the county.
Service should be restored to customers as the week wears on.
Electric service has been restored to some of Roane County, but rural areas are without.
Clay County still has about 2,000 customers without electric, with the power company saying it could be Sunday before it is restored.