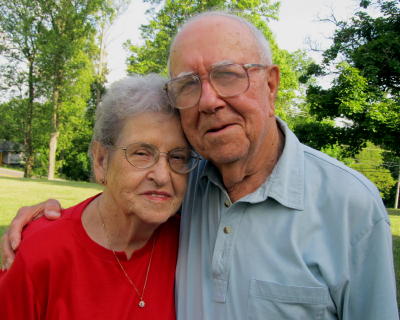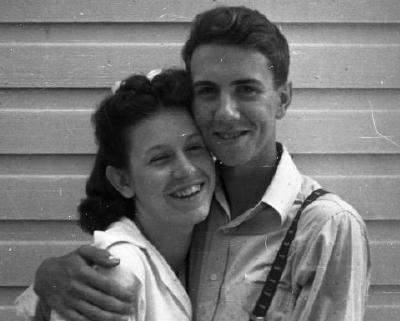 Von and Freda Yoak (top) celebrating 70 years of married life in 2012; courting at Calhoun County High School in 1941 (bottom)
By Bob Weaver 2018
A Calhoun businessman and civic leader, Ivy Von Yoak, 95, of Pleasant Hill, died at his home on December 11, 2018, surrounded by his family, with his wife of 76 years, Freda Radabaugh Yoak, by his side.
Yoak has sung at more than 3,000 funerals, but who will sing for him?
Yoak was a long time business man and was co-owner of the Grantsville Appliance, Inc., for 40 years, the Yoak Gas Company, and Dairy Products, Inc. He and his wife also co-owned and operated the Yoak Insurance Agency for 25 years.
He was the oldest member of the Pleasant Hill United Methodist Church in Grantsville, where he taught Sunday School and also served as choir director for many years.
As a singer he performed from an early age with the Yoak Quartet, which included his sister Betty and brothers, Harold and Don. He was a member and officer in the Order of the Eastern Star, Grantsville Chapter #73 and was also a 38-year member of the WV State Eastern Star Choir in which he was often a featured soloist.
One of his crowning achievements was singing "Battle Hymn of the Republic" for the Bicentennial International Eastern Star Convention in Cleveland, Ohio, before 16,000 people. He has also performed in England, the Caribbean, and throughout the southeast.
He learned to read music through the solfeggio system of shaped notes, which uses a specific shape that corresponds to each tone of a scale. Mr. Yoak delighted in teaching "singing schools" throughout West Virginia and in Florida.
Yoak was a 32nd degree Mason with the Eureka Lodge #40 in Grantsville, having served in every office many times, and as Master for many years over his 74-year membership.
As president of the Calhoun Development Corporation, Mr. Yoak worked tirelessly to bring business opportunities into Calhoun County, such as Rubber Fabricators, Inc. and Save-A-Tool. He was instrumental in buying the land for the Calhoun County Park, a recreational area. He also served as secretary of the board of directors for the Calhoun General Hospital, which was established in the 1950's.
Mr. Yoak enjoyed playing golf and traveling, visiting various places in the United States, England, Spain, and Africa. Mr. and Mrs. Yoak enjoyed going to Cocoa Beach, Florida, for six weeks every winter with the "Happy Days Club, a group of friends who vacationed together for 35 years.
Visitation will be from 6:00 to 8:00 p.m. Thursday, December 13, 2018, at the Pleasant Hill United Methodist Church, which will include an Eastern Star service at 7:30.
The funeral will be held Friday, December 14, 2018 at 1:00 p.m. at the church conducted by Stump Funeral Home & Cremation, Inc. and officiated by Rev. Rick Metheney and Rev. Carroll McCauley, with visitation one hour prior to the service. Interment follow in Pleasant Hill UMC Cemetery. Online condolences may be expressed at www.stumpfuneralhomes.com
Read Complete Obituary Under Obits.
MY GREATEST LESSON WAS THE GREAT DEPRESSION
By Bob Weaver 2012
Ivy Von Yoak met Freda Radabaugh when he was 16 and she was 14 while they attended Calhoun County High School in the early 1940s, marrying in 1942 at ages 19 and 17.
They celebrated their 70th wedding anniversary on June 1, with a special celebration set for Sunday at the Pleasant Hill United Methodist Church.
Freda said their long marriage is centered on "being a Christian, attending church and loving each other."
Von said his most valuable lesson in life was coming of age in the Great Depression. "The depression was my greatest teacher, the only way to go was up."
The Yoaks have long been involved in the Calhoun community and church activities. They are members and officers of the Order of the Eastern Star No. 7 in Grantsville for over 60 years They have active members in the WV Eastern Star Choir for 38 years, he often being a featured soloist.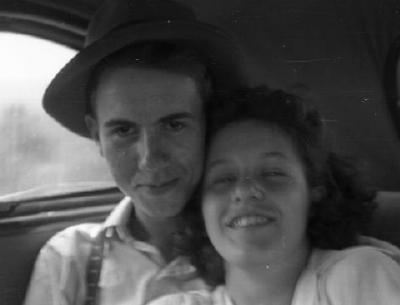 Courting as students at Calhoun County
High School, he was 16 and she was 14
Von has volunteered to sing at nearly 3,000 funerals.
He is a retired businessman of 40 years, co-owner of Grantsville Appliance Appliance and Dairy Products, Inc. Freda co-owned and operated the Yoak Insurance Agency for 25 years.
Von serves as choir director at Pleasant Hill United Methodist Church, and both are Friends of Minnie Hamilton.
Freda was a Folk Festival Belle in 2007, her mother Fannie being selected the first Belle from Calhoun County years before.
They enjoying traveling, spending part of the winter in Florida with a group of friends they have known for over 20 years.
Von has been an avid golfer. Yesterday, he spent the day golfing with his long-time friend Glen Fowler, 90, of Grantsville.
GOVERNOR BOREMAN SLEPT HERE - His Mammoth Bed Rests In Calhoun County
SUNNY CAL JOURNAL - TV Comes To Calhoun, All You Could See On One Channel