USING GPS IN RURAL CALHOUN GETS YOU LOST IN BOOGER HOLE
Vodka truck wrecks on narrow Braxton Road
The country peacefulness was disrupted.
A tractor-trailer driver with a load of Vodka wrecked late Monday night, using his GPS system which got him on narrow Servia-Elmira-Nicut Road.
He wrecked on Sleith Fork Road in Braxton County.
The driver thought the GPS would take him to Philadelphia.
GPS reliance in this rural area has caused some disturbing incidents in recent years. He struck two trees, hit a culvert and a mailbox before wrecking the rig, which was carrying $250,000 of pricey Vodka.
During the next 24-hours, about 1,500 cases of Vodka were loaded on another truck to continue the haul.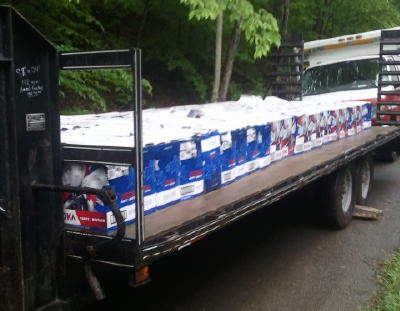 After lots of work 1,500 cases of Vodka loaded for Philly