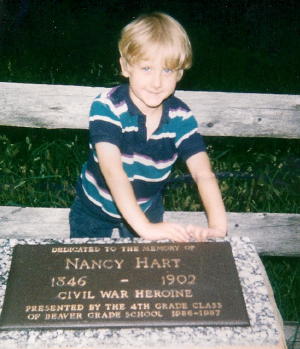 Shown here is a young Joe Overbaugh of Hur, whose family
roots are in Nicholas County, at Hart's grave site, he becoming and outstanding educator and entrepreneur
120 years ago in 1902, one of Calhoun's most historical figures Nancy Hart, went on to her maker to be buried in a rural Nicholas County cemetery.
To put it mildly, Hart enjoyed the company of blood-letting renegade Civil War soldiers who combed the region during that great conflict, not so much in combat for the passion attached to the war, but their own passions.
Hart's renegade life has been chronicled in several Hur Herald stories.
CALHOUN'S HELLFIRE BAND MURDERED INNOCENTS - Outlaws, Vigilantes, Plunderers
NEW BOOK CHRONICLES EXPLOITS OF CALHOUN'S MOCCASIN RANGERS
"A MATCH MADE IN HELL" - Nancy Hart's Renegade Life
HARDSHIPS OF CALHOUN IN CIVIL WAR 150 YEARS AGO - Historical Societies "Legend And Lore" Brings It To Life
WILL THE REAL NANCY HART COME FORTH