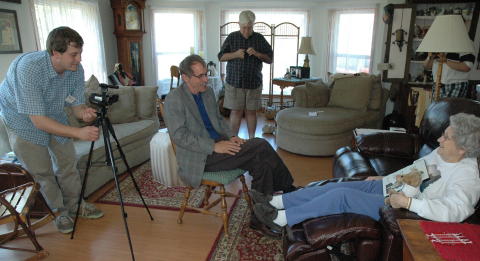 Eloise Davis Meads tells her story to GSC's
Jason Gum (left) and Dr. Bob Henry Baber (seated)
while her son Jim Meads (background) looks on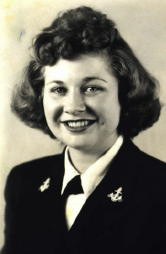 Glenville, WV - Eloise Davis Meads of Spencer, West Virginia has become the one-hundred and seventy-first veteran to have their story recorded for the West Virginia Veterans Legacy Project being conducted by Glenville State College. (Left is Meads' Service photo as a member of the WAVES.)
The program was started to establish an oral history collection that preserves and protects the recollections, memories, and stories of West Virginia's men and women who served in the U.S. military. The project includes the collection of and/or digitization of memorabilia, letters, articles, and photographs associated with West Virginia's military personnel since World War II. The project has been made possible through funding provided by the U.S. Institute of Museum and Library Services.
On a recent visit to her son and daughter in-law, Jim and Judy Meads of Glenville, Eloise was interview by West Virginia Veterans Legacy Project Director Dr. Bob Henry Baber and GSC Library Associate and Project Leader Jason Gum. Meads recalled her memories and experiences as a member of the WAVES (Women Accepted for Volunteer Emergency Service).
In 1942, the WAVES became a division of the U.S. Navy consisting entirely of women. WAVES could not serve aboard combat ships or aircraft and initially were restricted to duty in the continental United States. However, they were later authorized to serve in certain U.S. possessions, and a number were sent to Hawaii. The war ended before any WAVES could be sent to other locations.
In January of 1942, Meads, living in Montana, enlisted in the Waves at the tender age of seventeen. Enlistees were required to be at least eighteen years old, but a little creativity with her birth certificate allowed her to pass for eighteen. "I was encouraged to enlist by my father. I had four brothers who were all too young to join the military at the time, so I felt that I should," said Meads. All four of her brothers would later serve their country.
Following her basic training in New York, Meads was stationed in San Diego where she was a stenographer for military publications exposing her to information about the Atomic Bomb long before this information was made public.
Meads met her husband, James Meads, during a party that was being thrown for military personnel in San Diego. He was seated at the next table, and she quickly told a friend that she was going to marry that man. They shared a dance and became acquainted at that time. Her father, a Chaplain for the American Legion, later traveled from Montana to San Diego to perform the ceremony. Meads served with the WAVES until 1945.
"We were pleased to find another female veteran right here in Glenville State's backyard. Her dramatic closing statement, 'I do not believe that God will allow this to go on. I believe that he is going to see that the wars are going to end, and there aren't going to be anymore wars,' struck a deep cord in all of us, interviewers and family alike, as total silence settled over the room and eyes filled with tears," said Baber.
Both Eloise and her son Jim are graduates of Glenville State College.
This project builds on the Glenville State College's World War II Heroes Project, which records and preserves the experiences of West Virginia veterans from that specific conflict.
The project will focus on collecting, preserving, and broadcasting stories of West Virginia war veterans who served in the Korean War, the Vietnam War, the Persian Gulf War, and the current conflicts in Afghanistan and Iraq.
The Veterans Legacy Project expects to interview over two-hundred and fifty veterans. The project's end products will hopefully include an hour-long national-quality documentary, an original multi-media play, a softbound book of Veteran photographs with quotes and stories, and a possible traveling exhibit of text, photos and memorabilia.
These products of the project will travel throughout West Virginia, the Appalachian region, and nationally for years to come. All features will also be made available to be used in high schools and colleges, as well as by historians, veterans, and the general public.
An online submission form at www.glenville.edu/veterans is available for veterans who are interested in becoming part of the project.
For more information about the West Virginia Veterans Legacy Project, email Baber at bob.baber@glenville.edu  or phone (304)462-6382.