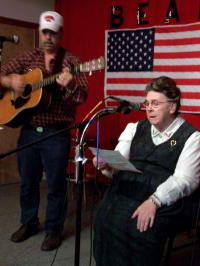 Mae shown with accomplished
musician son, Rick Falls
Freda Mae Cottrell Falls Bugden, 75, of Arnoldsburg, has made her final move from the Calhoun landscape.
Mae's roots are deep in the Calhoun wilderness with Calhoun early-comers the Cottrells, sometimes spelled Cottrill.
The family, in addition to being staunch survivors, has produced some of the finest mountain music makers, including Mae.
In recent years she dwelt on the Left Fork of Crummis Creek on the edge of the Bear Fork Wilderness from which the clan sprung.
She will be remembered as among Calhoun's last surviving mountain women, with staunch character, work hardiness and faith.
The family has continued a long tradition of excelling in original mountain music, bluegrass and gospel, playing with eloquence befitting a symphony orchestra.
Her father Noah Cottrell, and her aunt Phoebe Parsons were shining stars on West Virginia's mountain music stage for many years, besides being accomplished musicians they were great entertainers.
Phoebe was a flatfoot dancer, a talent that was generally reserved for men. She could do it with the best of them, performing at the 1963 World's Fair.
The family has at least six generations of music makers.
In addition to being survived by five children, she is survived by twelve siblings.
Interment was in the Falls-Siers Cemetery at Arnoldsburg.
See complete obituary Freda Mae Cottrell Falls Bugden