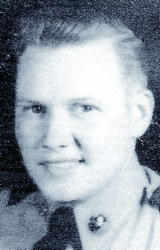 James W. Jarvis, 82, of Charleston passed away at home on Monday, March 12, 2012, after a long battle with cancer, surrounded by his loving family. He was born in Newton, Roane County, on March 24, 1929, to Gary and Mary Taylor Jarvis.

Surviving are his loving wife of 62 years, Jeannette Clay Jarvis; one daughter, Debbi Jarvis of Charleston; sons, Daniel Jarvis and his wife, Lori, of Aaron's Fork and Samuel Jarvis and his wife, Kimberly, of Charleston; four grandchildren, Heather, Danni, Allen and Cody Jarvis; and a sister, Martha Vineyard of Cincinnati, Ohio.

Jim attended Dupont High School, and worked at Union Carbide before serving in the U.S. Army during the Korean conflict. He was on the front lines with the 101st Airborne Division and 7th Division 31st infantry regiment as a Master Sergeant. On his return, he was employed by C&P Telephone Company, from which he retired in 1969. He and his wife then owned Jarvis Gun Shop for 26 years. He loved hunting and the outdoors.

While in Charleston, Jim attended the Charleston Mountain Mission and Big Bottom Missionary Baptist Church. For the last 15 years, he and his wife spent the winter months in Myrtle Beach, S.C., and had bought a home there in the past year.

The family wishes to express special thanks and appreciation to the Hospice staff, and to our extended family of friends in both Charleston and Myrtle Beach.

Jim's wish was to be cremated. A celebration of his life will take place from 6 to 8 p.m. Thursday, March 15, at Big Bottom Missionary Baptist Church, Campbells Creek. Graveside service will be held at 11 a.m. Friday, March 16, at Tyler Mountain Memory Gardens, Cross Lanes with the Rev. Fred Christian officiating, with Post #4768 serving military rites.

You may send the family condolences at www.barlowbonsall.com.

Barlow Bonsall Funeral Home has been entrusted to handle the arrangements.