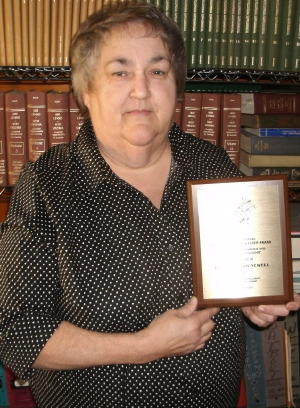 Calhoun woman Lois Ann Park Newell
recognized for 40-year genealogy work
2013
Calhoun resident Lois Ann Park Newell, 61, of Chloe, has passed. Newell was recognized for her 40-year efforts as a researcher, historian and genealogist.
She received a 2011 Lola Parks Spohn Nielson award for excellence in genealogy, family history research and volunteer service to organizations that allow people to find their ancestors.
"It isn't easy to recognize genealogists who often labor in obscurity and in private," said Richard Parks, on the groups selection committee.
"Those who really love research, history and family, what these men and women have done is priceless," he said. Newell began her genealogical research in 1972 that has enriched and enlightened her life. Her Library has grown over the years to include many books on her native state of WV and includes information on over 400 families in central WV.
She said one of the greatest rewards was finding a half-sister that she knew nothing about for 35 years, Deanna Kay Park Lyons of Coolville, Ohio.
In more recent years she has been active in helping set Civil War Markers for Union and Confederate soldiers.
Her greatest inspiration was her grandmother, Mabel Davis Park (1900-1998) who was always eager to share oral histories of the Park family and is in possession of her paternal great-grandfather Marlin Park's (1829-1903) Civil War trunk.
"He organized his own company in the war - B Company, 11th Virginia Infantry in Wirt County," she said.
Newell attended one room schools in Calhoun County, including Minnora, and later graduated from Calhoun County High School in 1969, after which she attended Parkersburg Beauty Academy and worked as beautician for several years.
She married John William Newell in 1972 and later built their passive solar home in which they resided.
She and her husband enjoyed old cars, riding four wheelers, collecting antiques, and attending flea markets, where she searches for bibles to return to their families
She was the daughter of Homer (Mug) and Emogene Arthur Park.
She is survived by John William Newell, her husband; one brother Robert M. Park of Minnora, WV and one half-sister Kay Lions of Ohio plus several aunts and cousins.
A memorial service will be set later.