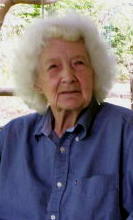 Dora E. Starcher, 93, of Chloe, West Virginia, passed away February 22, 2012 at her home.

Born in Marion County, she was a daughter of the late Emmons C. Shafer and Ida Miner Shafer.

She was a member of the Red Hat Society, Calhoun County Chapter, an active member supporter of the Calhoun County Library and was a member of the Calhoun County High School Alumni Association.

Surviving are her four daughters, Betty Wild, Cathy Ruckman, Becky Lance and her husband Bob, and Bobbi Gregoire and her husband Scott; her grandchildren, Mike (Theresa) Cowger, Cindy (Jack) Wilson, Kim (Wolfgang) Wild, Pam Cowger, Rob (Heather) Ruckman, Russ (Annie) Ruckman, Corey (Trisa) Lance, Ryan (Reannon) Lance, Megan Meluch, Jennifer Meluch, Justin Gregoire, and Stephanie Lance; 16 great grandchildren and 5 great-great grandchildren.

In addition to her parents she was preceded in death by her husband, Denver Starcher; 2 sisters; 2 brothers; and 1 granddaughter.

Funeral services will be held 1 p.m. Sunday, February 26 at Stump Funeral Home in Arnoldsburg with Rev. Rick Metheney officiating. Interment will be in the Shafer Cemetery.

Friends may call at the funeral home one hour prior to the services.