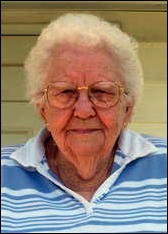 Goldie L. McHenry, 97, of Chiefland, Florida, died Sunday, February 5 at Haven Hospice.

Goldie was born August 30, 1914 in Linn, West Virginia and was one of seven children. She married the love of her life, Gayle McHenry, and after many years they followed their children to Florida in 1967.

Her husband Gayle was a Methodist minister and was herself a lifetime member of the Methodist church and current member of First United Methodist Church of Chiefland. She loved church and serving others. She was an avid quilter and member of the Log Cabin Quilters. Not only did she quilt for others but she won many ribbons including blue ribbons at the Florida State Fair. She always had a quilt in the frame to work on and a smile on her face. Each of her grandchildren and great grandchildren were given a quilt lovingly stitched by her.

She is survived by her daughters, Elizabeth Lee Treadway, Ann Hardee, Janet M. Jenkins (Gregg Jenkins), Cleo Prevatt (Claude Prevatt).

Also surviving are eleven grandchildren, Danny Riffle (Lynn), Debbie Kimbrell, David Miller (Renee), Mike Miller (Terri), Holly Bryant (Gary), Jeff Hardee (Dorie), Stephanie Kidd, Teresa Dillard (Hugh), Cindy Pugh (Wayne), Deanna Curtsinger, and Van Prevatt; sixteen Great Grandchildren and two great-great grandchildren.

Visitation will be held Thursday, February 9 from 5-7 p.m. at Knauff Funeral Home in Chiefland.

Funeral services will be held at 11 a.m. Friday at the First United Methodist Church of Chiefland.

In lieu of flowers the family asks that donations be made to Haven Hospice of Chiefland.