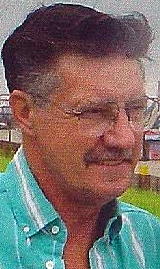 N. Eugene Braley, 69, of Marshallville, Ohio husband and best friend of Donna K. (Sparks) Braley, passed away on Saturday morning, January 21, 2012, at his home, after a long illness.

He was born May 29, 1942, in Clay County WV, the son of Earl and Grace (Martin) Braley, and attended school in West Virginia and Smithville. He married Donna on June 17, 1982. She survives.

In addition to his wife Donna, he is survived by five sons, Roy (Sherry) Braley, David Braley, Billy (Janet) Bartram, Allen (Wendy) Bartram, and Clifford (Mary) Bartram; a daughter, Phyllis Weinsheimer; grandchildren, Nikki and Cory Braley, Kira Cox, Cheyenne and Madison Bartram, Logan and Brittney James, Kailey Bartram, Jeremie and Katlyn Killinger, Missy (Kaz) Vipperman and Tyler Stoll; great- grandchildren, Rory and Kaizer Vipperman; sister, Sally Murphy; and nephew, Dave (Barb) Ledford. Thanks to special family friends, June and Terry Johns, Jerry and Brenda Holcomb, Carolyn and Burton Murphy, John Werntz, Jackie Elkins, Buddy and Marion Davison, Eric Drake, the Blair Family, the Snyder Family, Rodney and Diane Koon, and Richard and Jeanne Drouhard.

Eugene was preceded in death by his parents.

Eugene had been employed by the J. M Smucker Co., and retired in 2004, following thirty- eight years of service.

He will be greatly missed by his family and numerous friends. He was a kind and compassionate man, brave and courageous. We all love you deeply "Pops"!

Per Eugene's request, there will be no services or calling hours. Auble Funeral Home, Orrville, is assisting the family. Online registry and expressions of condolence may be made at www.aublefuneralhome.com

Memorial contributions may be made to Crossroads Hospice, 3743 Boettler Oaks Road, Suite E, Green, Ohio 44685.