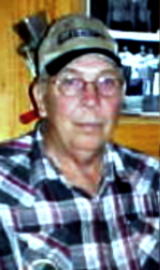 Melvin Cottrell, 67, of Arnoldsburg, West Virginia, passed from this life at 4:29 p.m. January 12, 2012 at home surrounded by loving family and friends.

He was a son of the late Noah and Fronia Jones Cottrell, born March 17, 1944. He ended a well fought, 5 year, battle with colon cancer. He was a life-long resident of the community of Crummies Creek. His passing occurred about one mile from his birth place. Melvin's livelihood was various employments in pipeline construction and auto and heavy equipment mechanics. He was an avid sportsman. He was preceded in death by his parents, a sister Marie and a brother Darrell.

Saddened survivors include his wife of 45 years, Patricia Elaine (Groves) Cottrell; daughter Lisa Thomas and her husband Roger of Parkersburg WV; son, Gregory Paul and his wife Kristen (Heiney) of Crummies Creek WV; four grandchildren, Cody Cottrell of Fairmont WV, Cameron Cottrell of Crummies Creek, Tiffany (Hall) Davis and her husband Marcus of Mt. Zion WV; and Tyler Lee of Sand Ridge WV; two great grandchildren, Albany and Baron Davis of Mt. Zion.

Also surviving are 13 siblings, Greta and Cliff Bargeloh of Parkersburg, Freda Mae Falls Bugden of Arnoldsburg WV, Donald and Mary (King) Cottrell of West Lafayette OH, Mildred and Rev. Glenville McBride, Sr. of Parkersburg, Calvin and Nancy (Groves) Cottrell of Siers Run WV, David Cottrell of Arnoldsburg, Randall and Cindy Hoskins Cottrell of Spring Run WV, Vera Johnson of Crummies Creek, Loretta and Jock Bishop of Spring Run, Kathy and Bernard of Elizabeth WV, Carol and Victor Summers of Crummies Creek, Connie and Bradley Hoskins of Spring Run, and Gerald Cottrell of Arnoldsburg.

With apologies, as Melvin was from one of Calhoun County's prominent families, print space prohibits a complete list of nieces, nephews and other surviving relatives.

Following cremation, a memorial service will occur at 2 p.m. Sunday, January 15 at Stump Funeral Home at Arnoldsburg with the Reverends Glenville McBride, Jr. and Sr. officiating. Visitation will be one hour prior to the time of service.

Mr. Cottrell's remains will be interred at the Metz Cemetery, Sand Ridge. It was his wish to rest near his parents.

Sincere gratitude is extended to Hospice, family, friends, neighbors, Dr. Hussain, and Roane General Hospital for their care and assistance that allowed Melvin his wish to pass at home.