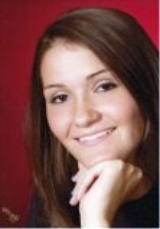 Sarah A. Hennen, 16 of Elizabeth, West Virginia, passed away Monday January 2, 2012 at Camden Clark Memorial Campus.

She was born March 8, 1995 the daughter of Deborah A. Hennen and Kenneth (Jennifer) Hennen.

Sarah was an amazing young lady, she was named in 2011 as athlete of the week in the Parkersburg News and Sentinel and received the single "A" Volleyball All Tournament award. She was a member of the Elizabeth United Methodist Church, and the Newark Shining Stars 4-H Club. Her family and friends were the most important things in her life.

She is survived by and will be dearly missed by her parents; brother, Doug Hennen of Elizabeth; sister Kenna (Kevin) Wagner of Lowell Ohio; 2 nephews, Logan and Levi Wagner of Lowell; grandparents, Pat and Wayne Hennen of Palestine WV and Dick and Mary Alice Frankel of Elizabeth; aunts and uncles, Rick Frankel, Bill Frankel (Lynea) all of Denver CO, Shirley Spriggs of Slate WV, Nancy Webb (Mark) and Marty Hennen (Debbie) all of Palestine, Randy Hennen of Latta SC, Tom Hennen (Bonnie) of Elizabeth; her cat, Kiki; several great aunts, uncles, cousins and friends.

Services will be held at 7 p.m. Friday, January 6 at Wirt County High School Auditorium, Elizabeth, with Rev. Lee Williams and Rev. Mark McCloy officiating. Visitation will be from 2 p.m. Friday till time of the service at the school.

Memorial donations may be made to the Wirt County High School Volleyball team, P.O. Box 579 Elizabeth, WV 26143.

Arrangements by Matheny Whited Funeral Home of Elizabeth WV.