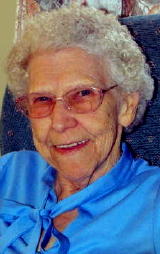 Byrnadeen Offutt, 90, of Millstone, West Virginia, went home to be with Jesus on Sunday, December 4, 2011.

She was born February 20, 1921 on Little Creek near Creston WV, the daughter of the late Howard and Jane Shrader Cooper.

Byrnadeen was a devoted Christian whose faith touched the lives of many. She loved raising a garden, sewing and was an avid quilter. She was a loving mother and grandmother and enjoyed spending time with her family. She attended the Sand Ridge Methodist Church where she played piano for the past eleven years. She was also a member of the Crafty Ladies Club and was one of the first members of the West Fork Community Action, where she helped many years with the West Virginia Molasses Festival. She will be greatly missed by all her friends and family.

She is survived by her son and his wife, Lention and Karen Offutt of Elizabeth WV; daughter and her husband, Sherlene and Kenny Conley of Millstone; three granddaughters and their husbands, Melissa and Josh Moss of Elizabeth, Sarah and Steve McLaughlin of Reedsville WV and Hannah and Luke Bowen of Ripley WV; one special great granddaughter, Evelyn Mae Moss of Elizabeth; also several nieces and nephews whom loved her very much.

In addition to her parents she was preceded in death by her husband of 55 years, Deward L. Offutt; two brothers, Bernstein Cooper and Forest Cooper; and an infant son.

The family requests in lieu of flowers that memorial contributions be made to Sand Ridge Methodist Church, West Fork Community Action, Inc. or Hospice Care Corporation of Burnsville WV.

Funeral services will be held 11 a.m. Wednesday, December 7 at Stump Funeral Home, Arnoldsburg WV with interment in the Sturm Cemetery.