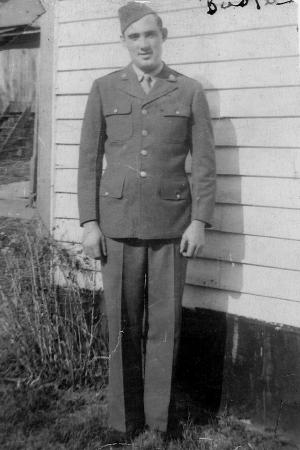 Vere Edward "Buster" Hoskins of Calhoun's Greatest Generation
By James Haught
Vere Edward Hoskins like so many World War II veterans never talked much about his experiences. I visited him several times during years at the end of his life. The last time was in the fall of 2009.
I said, "Buster, I have been putting two and two together and you must have been involved more in World War II than you let on. If you were in India and China, you must have also been in Burma."
He answered. "I was in all three places. India and China were easy as compared to Burma."
Vere Hoskins' story started on 23 July 1921 when he was born the only son of James and Lydia Whytsell Hoskins on Spring Run near Arnoldsburg.
He already had four sisters and would get two more. My mother, Gwendolyn Hoskins Haught was the oldest. Right from the start everyone called him "Buster". In fact most people around Arnoldsburg never knew he had another name. He grew up pampered by his mother and sisters. The entire family spoiled him rotten.
He went to the Spring Run School when he felt like it. Although the school was located about 200 yards from his house, he was a reluctant scholar. He went when he wanted to. Buster quit school when he was in the eighth grade. As a boy of 15 he spent most of his time hunting and fishing with his friends Clark Stalnaker and Russell King.
He could walk through the leaves of autumn without making a sound. He would shoot a squirrel through the head so as not to damage the body meat. He won most of the shooting matches that were held in the neighborhood. He owned and hunted every chance that he got. He never missed a shot because he felt the bullets were to expensive.
He made spending money by running a trap line in Anthony Run and Sumpter Hollow. He would also dig ginseng. My father, Horace L. Haught hired him to do carpenter work. He learned that skill very quickly. He also cut timber for his father. But Buster did not like for anything to interfere with his hunting and fishing.
My family visited my grandparents often. One of those days was Sunday, 7 December 1941. We did not know the Japanese had bombed Pearl Harbor until we stopped for gas at Dudley Moran's store at the intersection of US 33 and WV 16 at Millstone. As a nine year old boy I was sure Buster would join the Army and put either the Japanese or Germans in their place real quick.
But Vere was not too quick to join up. He was a reluctant soldier.
Calhoun County is a small county, but young men and women came out of the hills and hollows to fill the ranks of the Army, Navy and Marines. The ultimate number was about 1700.
But one day Buster got a letter. From: The President of the United States, To: Vere Edward Hoskins. "Greetings. You are hereby directed to report for a pre-induction physical examination." Buster was drafted into the United States Army on 2 February 1944.
I remember clearly the day Buster left Grantsville. My father, mother, my brother and I went down to Grantsville and found a place to park. We walked over to the Rainbow Hotel where the men who were being drafted or enlisted were loading on to a blue bus.
I gave Buster a can of Dr. Scholls Tooth-powder. As he got on the bus my grandmother and mother were crying. He was sworn into the Army in Clarksburg.
After basic training he came home on leave. When I saw him in his uniform I was so very proud. But he was not interested in a twelve year old boy. He was more interested in girls and drinking beer.
The United States was having a problem getting enough copper for making shells. They made a deal with some of the soldiers to go to Arizona and work in a copper mine.
To Buster anything sounded better than being a soldier. He went to the copper mines and worked. He said it was hot and dry and the work was too hard. He wanted to be back in Calhoun County. So he quit. But Uncle Sam did not like this very much so they called him back into the Army and sent him to Military Police School.
When his schooling was over he boarded a ship and sailed across the Atlantic Ocean, the Mediterranean Sea through the Suez Canal and into the Indian Ocean.
Buster's first overseas assignment was in Karachi, India (now Pakistan) where he was an MP at a military base. He was there for a short time and was then moved to northern India to a small air base. It was from here that planes lifted over the Himalayan Mountains. They delivered supplies to the Chinese and flew prisoners back to India.
Like so many men of the "Greatest Generation," Buster never talked much about his war time experiences.
One day at the Roane General Hospital where he was spending his last days. I said, "Buster I see in the book, Calhoun County in World War II by Robert and Joy Stevens that you earned three bronze stars. I also saw your World War II medals up at your house on Spring Run. You didn't get those medals from being an MP in Karachi or loading and unloading planes in northern India. The name of the Army group was CBI (China, Burma and India). You had to spend some time in Burma."
Buster answered. "Jim, I have never liked to talk about my experiences in Burma. Yes, I was stationed there and that is where I earned my medals."
"What did you do to earn three Bronze Stars with Oak Leaf Clusters?"
Buster said that he earned his Bronze Stars while on patrol. He said, "Typically there were anywhere from five to nine men in each patrol. We would go out into the jungle to try and find out what the Japanese were doing or we were out hunting Japanese soldiers."
"Each patrol was led by a sergeant or a lieutenant. If the patrol was large there were two men out front. They were called the point men. The next person in line was the leader. I usually was directly behind the leader. Anywhere from two to five men would be behind me," he continued.
This is the story Buster told me: "We would walk down a jungle trail. There were bamboos growing everywhere. Although bamboo is a grass they had trunks as big around as a man's leg. The enemy snipers would tie several of these together about 20 feet above the ground. He would sit in a little nest where the bamboo came together."
"The snipers would usually shoot the last man in our patrol. I was up front in the patrol. I would always notice when the bamboo was going in different directions. While they were taking a bead on our last man I shot them. It was a lot like hunting back home, but I was killing human beings. But it had to be done. That sniper was killing my buddies."
"Our patrol would go back to the base camp. After a week or so we would have a special formation and the commanding officer would present me with a metal. I was never proud of my metals. Jim, I killed a lot of Japanese soldiers when I was in Burma. I guess that is why I never liked to talk about my military experiences."
"I was sure glad when the war ended," he said.
"We would be going home. We got on boats in Mandalay, Burma and went down river to Rangoon. There we got on a troop ship for home. Our ship crossed the Equator and they had a ceremony. Then we crossed the International Date Line and we were initiated in the Loyal Sons of Magellan. We landed in California and I got a troop train home. I was discharged on 11 February 1946. Except for marrying Ivy McKown I believe that was the happiest day of my life." recalled Buster.
My family, nearly all of his sisters and his mother and father were at the family home when Buster arrived home. He was in uniform and wearing a brand new pair of hand-made boots. As a thirteen year old boy I knew nothing of metals, but I knew a hero had come home.
After the war Buster returned to Spring Run.
Vere Edward Hoskins married Ivy McKown who lived across the hill on Cooks Fork. They have nine children: Larry, Sharon, Bradley, Jeanne, Cindy, Stanley, Jeffrey and Melissa. They lived in a house about 100 yards from where Buster was born. Vere Edward "Buster" Hoskins died on 10 November 2009. He is buried at Liberty Hill Cemetery.
All 1,700 of the men and women from this area were heroes. Fifty two of them gave their lives so that the world would be free of people like Hitler, Mussolini and Tojo.
One hundred forty received Purple Hearts. Some were prisoners of war like our Grantsville Grade School Principal, Joseph Haught. Our neighbor, Gail Powell, died in a prisoner war camp.
The Calhoun men and women were clearly members of the "Greatest Generation."
They made a name for themselves wherever they served.
There were people like Buster who won 445 Bronze Stars. Thirteen Calhoun men won the next highest metal, the Silver Star.
Three won Distinguish Flying Crosses and, of course, Bernard P. Bell won the Congressional Metal of Honor.