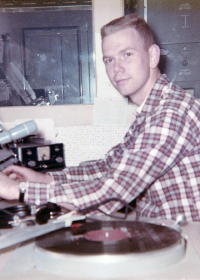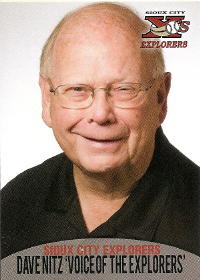 Dave Nitz at WSPZ control board in 1961 (left), now having an
award-winning sportscasting career lasting 50 years (right)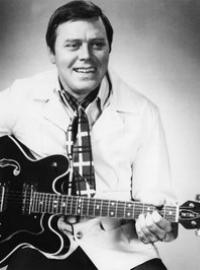 Tom T. Hall (left) is the most famous person coming from
WSPZ radio days, with owner's son H. Gordon Minns Jr. (right)
becoming one of the US's outstanding medical inventors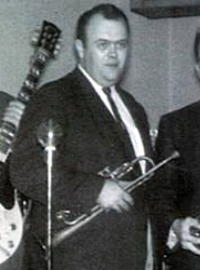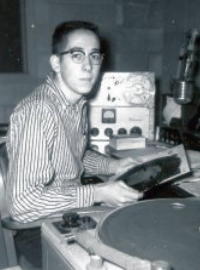 Dale Brooks (left) was inducted into the Rockabilly
Hall of Fame with early WSPZ DJ Bill Newbrough (right)
having a 50 year national career in broadcasting
By Bob Weaver 2011
I was reminded of my age after a call from radio sportscaster Dave Nitz of Shreveport, Louisiana in 2011 that WSPZ (now WVRC) Radio in Spencer went on the air 50 years ago in September.
"We haven't spoken for 50 years," Nitz said, both of us hired by the station's founder H. Gordon Minns to help put the station on the air. Nitz was a teen and I was 21, already having launched my radio career at WMOA in Marietta, Ohio.
The call prompted reflection about the employees of the station that went on to become famous, accomplished, or rich ... and then there was the rest of us.
Nitz, whose family roots are in Calhoun, was hired to do on-the-air broadcasting, doing the first broadcast of a Spencer Yellow Jackets football game. "I didn't know how to do it, other than listening to sportscasters on the radio," he said.
Nitz has an illustrious award-winning career in sports radio these past 50 years, now in his 37th year of broadcasting Louisiana Tech football, basketball and baseball on a state-wide network. He has been doing minor league baseball broadcasting for 30 years.
In 2010, he was named the Louisiana Sportscaster of the Year by the National Sportscasters and Sportswriters Association.
Dozens of Spencer High School students had their DJ'ing shows on the station, many going ahead to college to launch careers that have contributed much to American life.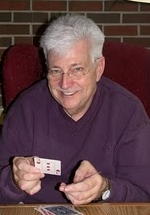 One such student was Jim Meads who became a 34 year educator, mostly teaching at Glenville State College. Meads did the night show when the power dropped to 250 watts.
"I recall that on one Sunday evening, my eye caught an obscure album entitled "German Beer Hall Songs". I thought, "Why not educate the hamlet of Spencer with a little culture?" From around 8 o'clock until we signed off, I played those songs - all in German," Meads said.
"Not a person called to complain. I guess the two folks listening (remember 250 watts is not a powerful signal) turned their dials elsewhere."
"WSPZ is certainly an important part of my life's special memories," he recalls.
A Calhoun boy, Tim Miller, son of Mr. and Mrs. Corley Miller, worked as a DJ during his school years, going on to become a physician.
H. Gordon Minns, who owned the local Coca Cola bottling company, assembled a fledgling crew of personalities, sales people and technicians for WSPZ's launch in the first constructed building in the Green Acres housing development.
Minns' son, Gordon Minns Jr., a student at Spencer High, helped with the electronic and transmitter equipment, his brainpower and skills amazing the staff.
Minns, who now lives in Wyoming, went off to WVU and later designed the first portable heart-lung machine, a hemodialysis unit for home use, and numerous other medical devices. He has written many scientific articles and holds many medical patents.
The most famous person to come from WSPZ is country musician and composer Tom T. Hall, known as the storyteller. Hall got discouraged over his low pay and the fact that the station manager felt he had little musical talent, telling him to 'just DJ.' He packed up and went to Nashville.
Most of those close to Tom T. advised him not to quit his job and move to Nashville, including myself.
I've often said, "If I give you advice, please ignore it."
The rest is history.
He has written eleven #1 hit songs, with 26 more reaching the Top 10. He has written songs for dozens of country stars, including Johnny Cash, George Jones, Loretta Lynn, Waylon Jennings, Alan Jackson, and Bobby Bare.
One of his earliest successful songs was "Harper Valley PTA," recorded in 1968 by Jeannie C. Riley, selling over six million copies. He was inducted into the Country Music Hall of Fame in 2008.
Bill Newbrough launched his radio career in Grafton and Spencer as a rock 'n roll DJ and now has over 50 years of experience in the radio and TV industry.
He had a 20 year stint at NBC-TV and radio in Chicago and San Francisco, and was engineering manager at the 50,000 watt NBC affiliate KNBR in San Francisco. Since 1993 he has been associated with an electronics sale firm RF Specialties.
Dale Brooks came later to the Spencer station as the manager, spending 30 years in broadcasting and performing before retiring to Florida. The musician-composer-author was inducted into the Rockabilly Hall of Fame, and was also inducted into the "Blackcat Rockabilly Hall of Fame" in Holland.
Dale's records and songs, including "Ambrose Boogie," date back to the mid-50's, and some are still going strong in many countries around the world. One of his gospel songs, "I'd Like To Hear My Name" has been recorded by nine different artists and groups.
Among his books are westerns including "The Claypool Conspiracy" and "The Homesteader."
Local radio listeners will remember his live 15-minute music show, playing "New River Train" as the introduction.
Charles "Charlie" Marlow, an employee of WVRC was inducted in the WV Broadcasting Hall of Fame. spent years as chief engineer at WJLS radio in Beckley, having helped orchestrate bringing WTNJ to the Beckley airwaves, and having previously engineered at WVRC radio in Spencer.
RADIO CAREER TOOK A DIVE
My job was selling ads, writing commercials and local news and some on-the-air work, also being the Calhoun connection to the station.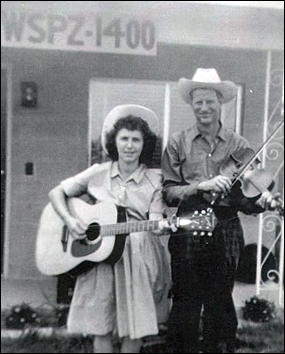 Lester and Linda McCumbers early
WSPZ performers (Jim Meads Photo)
My radio "career" was launched after playing with radio at home at Hur, Calhoun County, operating an illegal radio station, to then work at WMOA in Marietta, Ohio and then coming to Spencer to help put the new (WSPZ) radio station on the air
Calhoun had early performers on WSPZ, including Vandalia recipient Lester McCumbers and his wife Linda, who performed live mountain music during the early 1960s.
One of the first gospel music and preaching programs to originate from Calhoun was Uncle Amos Gibson's "Calhoun Bible Hour." Uncle Amos would bring a dozen of his friends to the studio and preach, sing and testify.
During those early years, I made recordings of Calhoun's Yoak Quartet, one of the finest gospel quartets I've ever heard. (It would be great if those recordings could be found)
I was asked to sign-up Calhoun County High School football games to be broadcast live. Principal Roy Stump and coach Wayne Underwood agreed to the project, but changed their mind, fearful the broadcast would hurt attendance.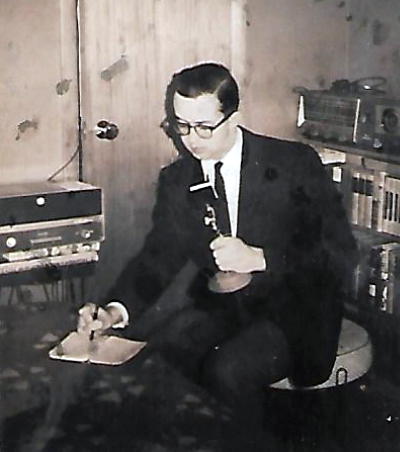 My early "radio career" actually began at my house at Hur in Calhoun in the 1950s, seen above in a "geeky" photo that showed a serious nature, operating an illegal AM radio station that broadcast music around the hilltops.
My radio career of about two years ended for at least one of two reasons.
One was having an epiphany walking down a Spencer street, acknowledging that my tiny salary could not support my $10 a week sleeping room while maintaining a car.
Like any young blooded man, I gave up the room and slept in the car.
Perhaps the real reason for ending my radio career was a joke told on the air by my long time Calhoun friend Tim Hall, who was visiting me in the control room one night.
Mentioned earlier, the power dropped to 250 watts at night and at times it was doubtful if anyone was listening. In between songs, Tim and I chatted about UFOs and other strange phenomenon.
Out of the blue, Tim started telling a story about a flying saucer landing on earth.
"The saucer landed at a filling station and a strange little alien got out and ambled up to a gas pump, saying 'Take me to your leader.'"
Getting no response, the space critter repeated to the pump, "Take me to your leader."
The alien got madder and madder at the silence, Tim said, after which the critter exclaimed, "Are you going to stand there all night with your d--k in your ear, or are you going to take me to your leader?"
One of the two or three listeners was the station owner's wife.
I went on to other things like becoming a mortician, founding treatment centers for addiction, being a county commissioner and starting the Hur Herald.
But my radio days are among my best memories.
See CALHOUN RADIO DAZE - Calhoun Almost Got A Radio Station Twice, Settled For Illegal Broadcasts At Hur