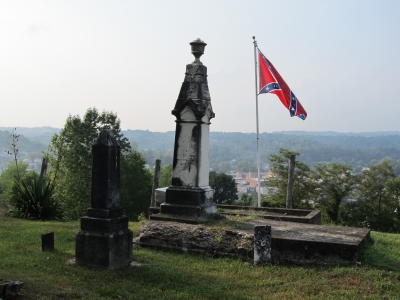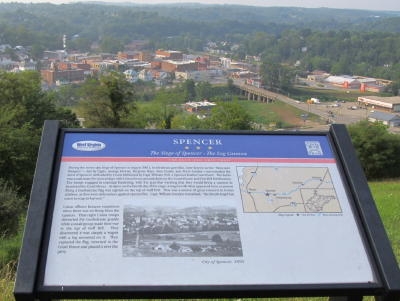 Historic Goff Cemetery rests high on hilltop, near site
of the Civil War Memorial overlooking City of Spencer
By Bob Weaver 2012
A booklet "The Civil War in Spencer, 1861-1865" has been published (2011) by the Spencer Rotary Club in recognition of the war's sesquicentennial.
Book in hand, I read it atop the high hill overlooking the city, behind the former Spencer State Hospital site, now used by Wal-Mart and Roane County Family Healthcare.
The hilltop is being developed as a registered Civil War site with its expansive view of Spencer, resting on part of 184-acres used for West Virginia's second "lunatic asylum" - Spencer State Hospital.
The old state hospital serviced the region for nearly 100 years, closing in 1989, the main building a quarter of a mile long, said to have been the longest, continuous brick structure in the USA at one time.
Pre-dating the state hospital was the siege of Spencer in August, 1861, by the Moccasin Rangers, a band of Calhoun-connected marauders with Confederate sympathies, known for their brutal and bloody encounters.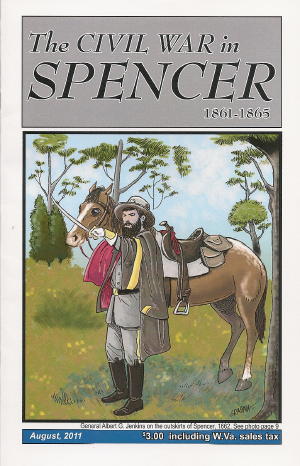 The 23-page history includes a chronology of events
from April 1861 to April 1865 when the war ended
Among those, in December 1861, Col. John C. Rathbone of the 11th (West) Virginia Infantry, established a command post in the Roane County Courthouse, Maj. George C. Trimble led four companies of Union soldiers from Spencer to Arnoldsburg to fight guerrillas in May 1862 and skirmishes near Spencer in June 1864 and Spring 1865.
The book recalls Gen. Albert Jenkins raid through Greenbrier, Pocahontas and Randolph counties and the Confederate capture of Spencer in the autumn of 1862.
Jenkins took Spencer without firing a shot.
"No shooting was done. We soon learned that Col. Rathbone and his four companies of Union soldiers had surrendered to Gen. Jenkins and we were ordered to ride in and take possession, which we did," said Rebel soldier Arthur Lang.
The decision enraged the Union high command.
Early Spencer settlers, the Goffs, repose
in cemetery with Civil War soldiers
Rotarians Jim McCulty and Paul Hughes compiled the information and the publication was written and designed by Calhoun resident Neil Grahame, who also illustrated the covers.
The book is available from the Rotary Visitors Center behind the Roane courthouse from 9 a.m.-4 p.m. Monday through Friday or copies can also be ordered by phone at 304-927-1780. There is a $2 fee for shipping and handling.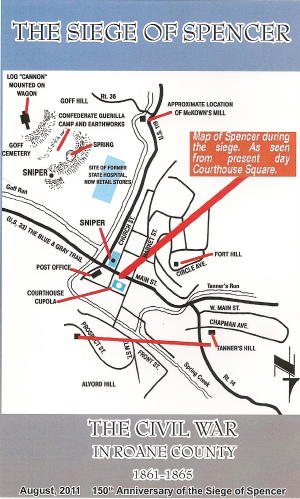 THE GROUNDS OF HISTORIC SPENCER STATE HOSPITAL
There are a few remnants remaining of the 100-year-old Spencer
State Hospital, a facility that at one time housed 1,200 patients.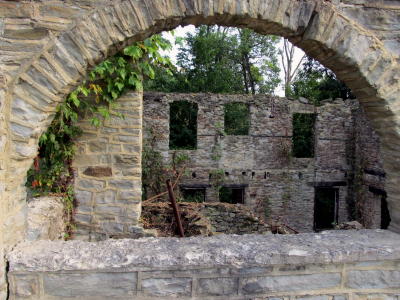 Stone house once occupied by superintendent,
located on hilltop behind historic hospital
At least 850 bodies were not claimed and now repose
in the Spencer State Hospital Cemetery ...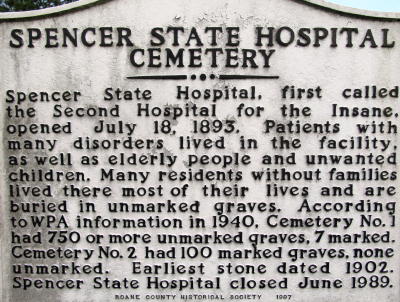 ... the site is recognized today by
sunken graves and a historical marker