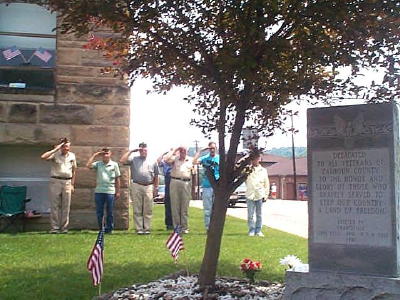 VFW salutes those who perished for freedom
By Bob Weaver
Despite 9-11, the public's movement toward patriotism seems short-lived. Other than VFW members, officials and participants, the only "outside" attendee to Saturday's VFW-sponsored Memorial Day observance was retired teacher Elva Yoak.
While VFW Post Commander Paul Whytsell and Delegate Bill Stemple helped deliver the memorial service, Ms. Yoak sat quietly across the street from the courthouse in her lawn chair.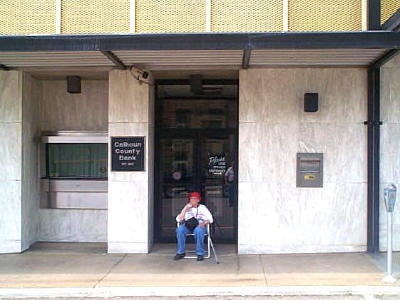 Elva Yoak remembers her youthful brother Jack
"My brother Jack lied about his age (15) and joined the Army in World War II," she said. "He was killed in combat a short time later."
Delegate Stemple read a salute to the American soldier and presented a plaque and flags to the local VFW Post.
Pastor Larry Jones offered prayers for America and officials who guide its course through troubled times.
VFW members placed a wreath against the permanent marker honoring the war dead, and auxiliary members added flags and flowers.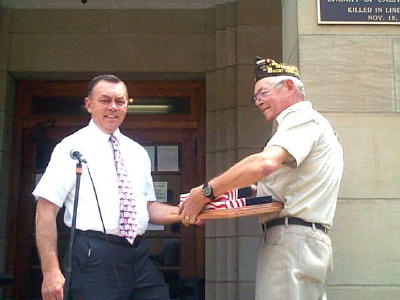 Del. Stemple presents flags and plaque to VFW Post
Post members Gale Tanner (L) and Paul Whytsell (R)
place wreath at courthouse marker
The mournful playing of taps blared from the loud speakers, echoing against the buildings of a vacant Grantsville. "People have a lot of places to go this weekend. They're very busy," said a member of the Lady's Auxiliary. "Do they have civics classes to remind us about the price of freedom?" asked another, noting the collective memory of America seems short-term.
Ms. Yoak's head was bowed in silence during much of the ceremony, likely remembering the crucial times when the survival of the country was much in doubt, and those men who extraordinarily left their mountain homes in great numbers to protect and defend a way of life that many take for granted.
She certainly was remembering her brother Jack, who made the leap from a youthful country boy to a man soldier on the fields of battle in that great war.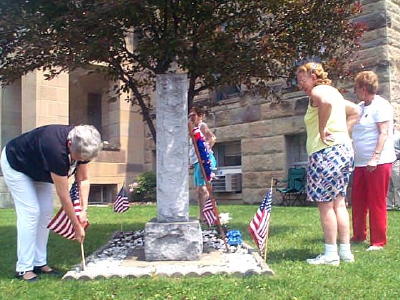 VFW women place flags and flowers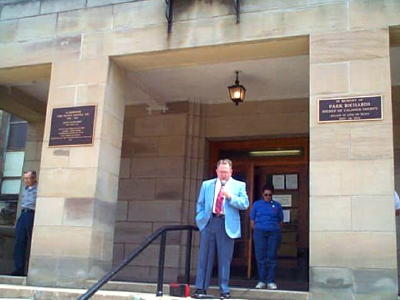 Pastor Jones offers prayers for America