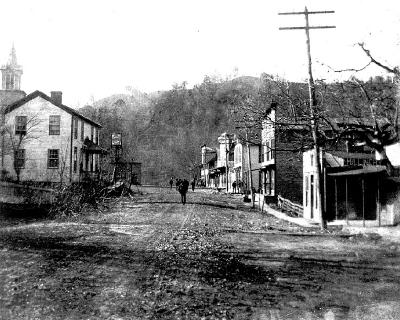 The Cooks came to Grantsville in 1870 and
erected the popular Cook Hotel (left) on Main
and Court Street near the county court house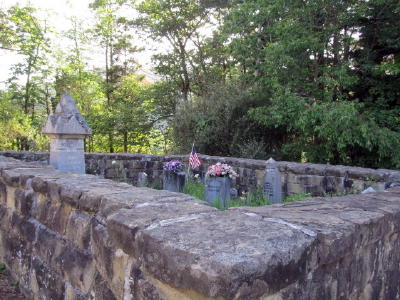 The ill-fated Cook family is buried on a knoll above
Grantsville, near Minnie Hamilton Health System
By Bob Weaver
The Cook family settled in Grantsville after the Civil War establishing the Cook Hotel, to fade rather quickly from war wounds, hard work and early deaths.
The Cook men were Civil War veterans and their father was a veteran of the War of 1812.
About a dozen of the family are buried in a small cemetery surrounded by cut stone on a knoll overlooking Grantsville near Minnie Hamilton Health System.
Perhaps the Cook's greatest legacy was for their offspring to marry into the Hamilton family, Calhoun politicians, attorneys and business leaders.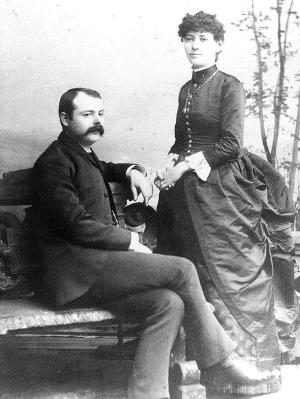 The Cook's daughter Minnie married John M. Hamilton in 1885,
they had 15 children - the Hamiltons of Calhoun County
The marriage of Minnie Cook, daughter of George and Susan Carr Cook to John M. Hamilton in 1885, produced 15 children, becoming the well-known Hamiltons of the 20th Century.
Perhaps the most recognizable descendant today is long-time county health nurse Minnie Hamilton, daughter of John and Minnie Cook Hamilton, whose name is etched on the county's medical facility.
Confederate brothers George and Thomas Cook, sons of John and Mary Fleshman Cook of Greenbriar County, saw action in most every major engagement in the war. George and Thomas both received war wounds, George being badly wounded at Chancellorsville.
Coming to Roane County on a failed promise of a farm, young Thomas died there from his war wounds. Distressed brother George, who had married Susan Carr in 1866, by happenstance met his old Rebel friend Peregrine Hays in Spencer one day.
Hays, one of Calhoun's largest landowners and well-known politicians, brought young Cook to Arnoldsburg, leasing him land and helping his family to open a hotel in the village.
Lorentz C. Hamilton wrote, "The business prospered. George was a good manager and Susan was unexcelled in the kitchen," their children being born in the Arnoldsburg hotel.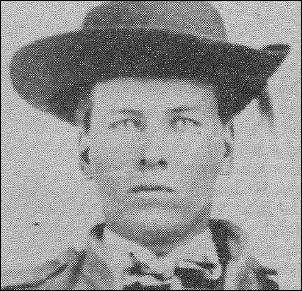 Civil War veteran George Cook died of
injuries received in the conflict at age 32
When the county seat was determined to be at Grantsville, the Cooks decided to move there in 1870 and erected a new hotel near the courthouse.
The family was beset with sorrow and the deaths of several of their children, including George Cook's elderly father John.
War trauma caught up with George Cook, dying in 1876 at the young age of 32, leaving his hard-working window Susan to raise the surviving members of his family.
Susan continued to run the Cook Hotel until 1909, described as "a remarkable person ... almost beyond belief." She died in 1917 to be taken to the family cemetery overlooking Grantsville.
In 1985, Grantsville attorney and historian Lorentz Carr Hamilton, lamented about his ill-fated grandparents the Cooks, and how quickly the line vanished into history.
Now, the Hamiltons, once leading citizens of Calhoun, have done likewise.
See PEREGRINE'S GHOST - His Presence Lingers Over Calhoun Since 1840
GINSENG HELPED LAUNCH PEREGRINE HAYS' GIGANTIC HOLDINGS - West Fork Holdings Exceeded 30,000 Acres
THE HAMILTONS OF CALHOUN - Remembering "Boxcar"
BEYOND THE CALL - Minnie Hamilton's Legacy, Down The Muddy Roads She Went