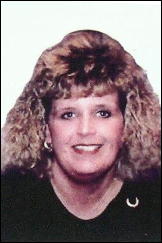 "Precious in the sight of the Lord is the death of His saints." Psalms 116:15

Jennifer Lynn Propst Miller, 40, of Rosedale, West Virginia, went home to be with the Lord on Sunday, June 26, 2011 at her parents' residence, Grantsville, WV.

Jennifer was born January 4, 1971, the daughter of Roger Dale and Loretta Hathaway Propst.

Jennifer graduated from Calhoun County High School with the Class of 1989. She attended WVU-P and later graduated as an LPN from New River Technical College, a subsidiary of Bluefield State College. Her passion for the beauty of nature led to a hobby of photography that later extended to individual and family photographs.

In addition to her parents, she is survived by her husband, Micky Don Miller, her children, Caden Phillip and Shayla Lynne Arnold, and Colten Gregory Miller. Also, her in-laws, Frank and Carolyn Miller; her sisters-in-law, Molly Miller McLaughlin and Amanda Dye Propst Richards; her three nephews, Kyler Gregory and Mason Todd Propst and Stanley McLaughlin, II. Jen had several special uncles, aunts and cousins, along with numerous friends, who she loved dearly and each held a special place in her heart.

Jennifer greatly loved her children and was their staunchest advocate. Her desire is that her legacy to Caden, Shayla, and Colten be her faith in God, leading them to live committed Christian lives.

Preceding Jennifer in death was her only sibling, her brother, Gregory Allen Propst on May 14, 2000. Other members already home are her paternal grandparents, George James and Edna Ferrell Propst; her maternal grandparents, Orvan "Todd" and Eulanee Stump Hathaway.

Funeral services will be held at the Calhoun County Middle-High School auditorium on Friday, July 1, 2011 at 1:00 p.m. Rev. Shelly Mace and Rev. Roger Carter will officiate. Interment will be in the Mt. Zion UMC Cemetery.

Visitation will be held at the auditorium Thursday, June 30, 2011 from 5-8 p.m. and Friday one hour prior to the service time.

Stump Funeral Homes, Inc., Grantsville, WV is in charge of arrangements.

Jennifer ran a good race and fought a brave fight against cancer. She spent her last years sharing her faith, encouraging others to seek God, and assuring her loved ones of her peace and that she was bound for heaven.