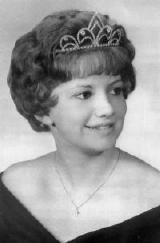 Judy Riddel Starcher passes after suffering long-time health problems, shown here during kinder and gentler times as the Queen of the Calhoun High school class of 1964
Judith A. Riddle Starcher, 65, of Bramblewood Village, Grantsville, West Virginia, died June 23, 2011 at her home.
Born in Parkersburg WV she was the daughter of the late Benjamin F. and Liona Cox Riddel, and was a graduate of Calhoun High School, Class of 1964 and a member of the Knotts Memorial United Methodist Church in Grantsville.
She was married to the late Eddie Dean Starcher, one of Calhoun's two causalities of the Vietnam War.
Surviving, brother, Robert Riddel of New Matamoras OH, two nephews Ryan and Mo Riddel; three nieces, Jessica Self, Kara and Brittany Riddel.
Funeral services will be held at 2 p.m. Wednesday, June 29 at Stump Funeral Home in Grantsville with interment in the Bethlehem Cemetery.
Friends may call at the funeral home from 6 to 8 p.m. Tuesday.