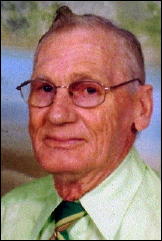 Rev. Willis E. Anderson, 77, of Spencer, West Virginia, died Tuesday, April 26, 2011, in the Roane General Hospital, Spencer.

He was born May 24, 1933, at Frame WV, a son of the late James William and Victoria Ann Griffin Anderson.

In addition to his parents, he was preceded in death by his wife, Stella J. Anderson.

Rev. Anderson was 1995 retiree of the Roane County Board of Education. He was employed as a bus driver and later a bus mechanic. He was an Air Force veteran of the Korean War; a Past Commander and Past Chaplin of the American Legion Post 21, Spencer. Rev. Anderson was a lifetime ordained minister of the Gospel of Christ in the Advent Christian Church Conference and served several local AC churches in Roane County.

He was a member of the Roane County, WV School Service Personnel, where he served as President until May 6, 1995. He was also a member of the WV Association of Retired School Employees. In 1988, he received the Seal of the Treasurer of the State of WV, from A. James Manchin for Official Poet Laureate.

Survivors include his children, David H. Anderson of Walton WV, Marlena D. Dailey of Savannah GA, Jerry W. Anderson of Peniel WV, Lena M. Burgess and Barbara S. DeWeese both of Spencer; 10 grandchildren, seven great grandchildren; several step children, grandchildren and great grandchildren; and several siblings.

A graveside service, with military honors, will be held Monday, May 2 at 1:00 p.m. in the Spencer Memorial Cemetery, Spencer, with the Rev. Garry L. Bowen officiating. There will be no visitation.

In lieu of flowers, donations may be mailed to P.O. Box 154, Spencer, WV 25276.

John H. Taylor Funeral Home, Spencer is in charge of arrangements.