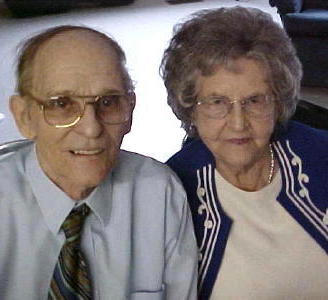 Elah and her husband Marion, who passed
away in 2004 after 55 years of marriage
2011
Elah Starcher Whisman, one of Calhoun's pedestal people, has died at age 94.
The longtime resident of Hur was the last surviving saint of the Mt. Olive United Methodist Church, which has also faded into history.
Elah had been able to maintain her household, with help, until her death. She died in a Parkersburg hospital Friday morning after a short illness.
See complete obituary Elah Starcher Whisman MARION & ELAH - A Love Story
WHISMANS ARE "PEDESTAL PEOPLE" - They Have Sung A Wonderful Song
SUNNY CAL JOURNAL - Darkness Falls On Hur Church, Old Saints Recalled
SUNNY CAL JOURNAL - Church Silent As The Graveyard, Reveling With Memories