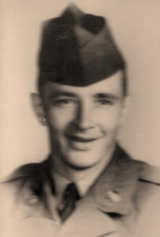 Donald Lee (Don) Cheuvront 77, of Elizabeth, West Virginia, passed away peacefully at Sunbridge Care and Rehabilitation Center of Marietta, Monday, March 28th 2011.

Don was born February 15, 1934 in Palestine WV in his great grandparent's home.

He graduated from Wirt County High School in 1952 and later served in the US Army. He retired after 40 plus years as a member of the Boilermakers Local 667 of Winfield.

He is survived by his loving wife of 51 years, Elaine Joy Cheuvront; his four sons, Donald Jr. (Bud) and his wife Vicki, Michael (Mike) and his wife Beverly, Andrew (Andy) and his wife Jodi, and Daniel (Danny) and his Wife Beverly Cheuvront all of Elizabeth.

He was the proud grandfather of 11 grandchildren, Jennifer and J.D. Cheuvront, Scott McKinney, Christina Trippett, Michelle Oddo, Jessica McKinney, Nichole, Tyler, Cole, Remington, and Jackie Sue Cheuvront; and 9 great grandchildren, Taylor Trippett, Sami, and Lexi McKinney, Anthony and Emily Oddo, Trenton and Dylan Toler and Brooklyn and Olivia Pettus.

Don was an avid hunter and fisherman. He was a Pittsburgh Steelers and Pirates fan, and a fan of any team that could beat Ohio State. He enjoyed trying each year to grow tomatoes in his back yard, taller than he grew them the previous year. He loved welding and making new and different things that he could give away. Don had a special love for children and is famous in his small town of Elizabeth for making belt buckles, and giving them to a countless number of kids.

He was preceded in death by father, Charles (Chuck) Cheuvront, his mother Helen Bumgarner Cheuvront, and 3 brothers Joe, Jim and Ken Cheuvront.

Services will be 2:00 p.m. Friday April 1 at Matheny Whited Funeral Home of Elizabeth, with Pastor Tim Bell officiating. Visitation will be Thursday March 31 from 2-4 and 6-9 p.m.

Interment will be at K of P Cemetery of Elizabeth WV.