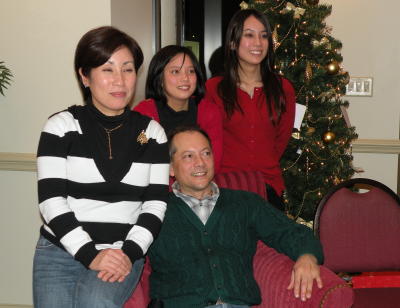 Former Calhouner Chuck Smith, his wife
Naomi, with daughters Ashley and Lauren
By Bob Weaver 2011
A former Calhoun resident checked in with his family and friends minutes after the earthquake struck Japan, according to his brother, Calhoun Magistrate Clerk Gary Smith.
"He has been emailing and on Facebook," Gary said, indicating phone service has been difficult at times, with electric service having rolling blackouts.
Japanese citizens are on-edge because of problems related to the meltdown of nuclear electric generating plants.
Charles Albert "Chuck" Smith, his wife and two daughters live 30 miles north of Tokyo. He has told family members they have not suffered ill effects from the disaster, except a disruption in electric, problems getting gasoline and accessing transportation services.
Chuck, after graduating from college, moved to Japan about twenty years ago, where he teaches pre-college English. Wednesday night he was attending a graduation ceremony for some of his students.
Chuck was named for one-time Grantsville physician Dr. Charles Albert Stump, who delivered him.
He said Japanese people are known for their respect toward each other, noting there is virtually no looting following the earthquake.
Rather than jerk prices up, Japanese businessmen are lowering them.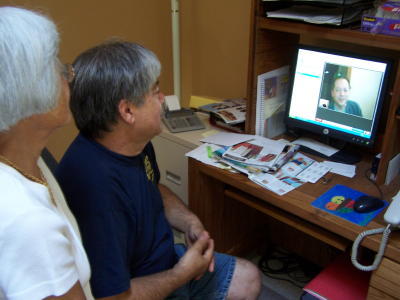 Mother Paula and brother Mike Smith, also of
Calhoun, converse with Chuck in Japan via Internet
Smith and his family visited West Virginia last year, but joined a family celebration in 2008 via the Internet, honoring the 80th birthday of his mother, Mitsuko Kobayashi Smith Whipkey, known to Calhouners as Paula.
Smith's family members have had numerous calls and inquiries about his well-being, they said.
See related story LITTLE JAPANESE WOMAN' TURNS 80 - Mitsuko Kobayashi Smith Whipkey Has Calhoun Celebration