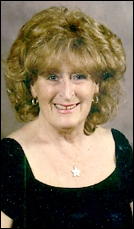 Nancy Gail Reichmeider, 70 of Silver Spring, Maryland, passed Friday, February 11, 2011.

Nancy was born in Charleston, West Virginia and spent most of her adult life in Silver Spring, Maryland.

She was a retired transportation supervisor for the Montgomery County Public Schools Department of Transportation. She was a longtime and decorated member of the Kensington Volunteer Fire Department. Nancy was the Associate Conductress of Silver Springs Chapter Number #66 Order of the Eastern Star. Post retirement, she took great pride in caring for the elderly via many community service organizations.

She was preceded in death by her daughter, Pamela Reichmeider; parents, Gail Alderton Fletcher and Nancy Grace Fletcher.

Survivors include son, Scott Reichmeider of Pleasanton CA; daughter-in-law, Kelly Dalton-Reichmeider of Pleasanton; sister, Dawn (Tom) Fox of Millstone WV; brothers, David (Ramona) Fletcher of Belle WV, and Clark (Marty) Fletcher of Miami Beach, FL.

Visitation will be Friday February 18th from 5:00-8:00 p.m. at the Hines-Rinaldi Funeral Home at 11800 New Hampshire Avenue Silver Spring, MD. There will be an Eastern Star service at 6:30 p.m. on Friday evening. Additional viewing will be on Saturday beginning at 11:00 a.m with a funeral service to commence at 1:00 p.m.

Nancy's positive attitude and selfless spirit will forever be remembered. A celebration of her life will directly follow the service at the Oak Room of the Sandy Springs Volunteer Fire Department located at 17921 Brooke Road Sandy Spring, MD. Please join us to remember Nancy's unique and remarkable talents.

In lieu of flowers, charitable donations may be made to Kensington Volunteer Fire Department, PO Box 222, Kensington, MD 20895.