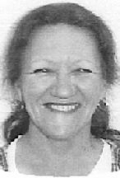 Karen J. Stump Cromer went joyously home to be with her Lord and Savior on January 3, 2011.

Preceded in death by her father, Earl P. Stump; brother, Larry E. Stump; and her precious grandson, Seth Cromer, Karen is now praising her Lord and waiting for those she has loved so dearly, husband, Roderick (Bill) Cromer, Sr., of 47 years; daughter, Candi J. Cromer; son, Roderick (Billi) (Mindie) Cromer, Jr.; grandsons, Vincent and Kalib Cromer, Lee Lamson; granddaughter, Racquel Lamson; mother, Eleanor Stump; sisters, Pat (Bill) Wiley, Nancy (Bob) Stackowicz, Kim (Chuck) Dunham; brothers, Bill (Cindy) Stump, Mark (Jamie) Stump, and Linda Gamble; many dear nieces, nephews and friends.

Karen taught many years in Sunday School at the Akron Baptist Temple. Her greatest passion was to teach The Truths of God's Word to the children and others, that they too would accept Jesus as their Savior and Lord. John 3:7, You should not be surprised at my saying, "You must be born again."

Funeral service was held Saturday, January 8, 2011 at Cox Funeral Home, 222 Norton Ave. in Barberton, with Pastor Jason Wiley officiating. Interment at Western Star Cemetery in Norton.

Memorials may be made to Barberton Hospice & Palliative Care, 527 W. Tuscarawas Ave., Barberton, Ohio 44203.