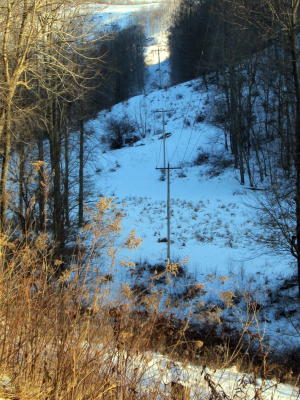 The Hur Herald has dedicated time and effort to spot Bigfoot
on an electric right-of-way a short distance
south of Arnoldsburg, with no positive sighting.
By Bob Weaver
In a county where there have been reports of Mountain Lions, Panthers or Catamounts, some residents also swear to the existence of Bigfoot.
Reports of such creatures have surfaced in neighboring Roane County.
Kris Allen, a country recording artist and former lead singer for The Marshall Tucker Band, his current band Southern Thunder, says there is much more than meets the eye.
Allen says he is a dedicated crypto researcher, and more precisely, a dedicated Bigfoot researcher, who has encountered the elusive creature on more than one occasion.
Currently living in Hernshaw, Allen says he encountered three creatures in the Monongahela National Forest alone, as well as sighting in Kanawha State Forest, just outside of Charleston.
Allen works with other true believers and scientists from around the world and is dedicated to proving the existence of Bigfoot.
"Some people have a hard time believing what they can't see, but scientists know these creatures existed 10,000 years ago, and they're still here" says Allen.
If you have a sighting of a strange creature in the Calhoun backwoods, we'd like to hear from you. (2012)
CALHOUN SIGHTINGS
See CALHOUN MAN SAYS HE SPOTTED SASQUATCH-LIKE CREATURE - "God In Heaven Be My Witness"
"DON'T DISCOUNT BIGFOOT SIGHTINGS" SAYS FIRST-PERSON WITNESS
A "BIGFOOT" BEAR PAW ON CRUMMIES CREEK
CATAMOUNTS, PANTHERS AND MOUNTAIN LIONS - Real Or Imagined, The Calhoun Wilderness Holds Answer
BACKWOODS OLD-TIMER SAM LAWSON RECALLS BEAR FORK LIFE - A Secret Of Hidden Money, Panthers, Rattlesnakes
CRITTERS IN THE DEEP WOODS - Bobcat, Bear, Coyote and Mountain Lions (?)
FLASHBACK: CALHOUN MOUNTAIN LION KILL WAS 'PURE FICTION'