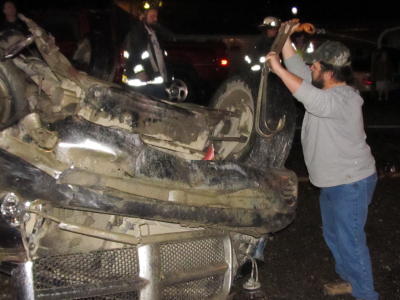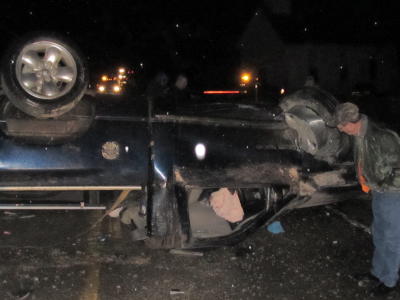 Fleeing driver crashes in middle of Route 5
By Bob Weaver 1/1/2011
At least five vehicles were damaged or totaled following a chase by the Grantsville Police Department Saturday night.
"It was the worst mess I think I've ever seen at a crash scene," said officer Bob Groves.
It was the worst mess this reporter has ever seen.
Four of the damaged vehicles were parked along the highway near a sharp turn at Cabot Station, about two miles west of Grantsville on State Route 5.
A truck driven by the fleeing suspect, after striking the four parked vehicles, crashed on its top in the middle of the highway.
FOUR PARKED VEHICLES HEAVILY DAMAGED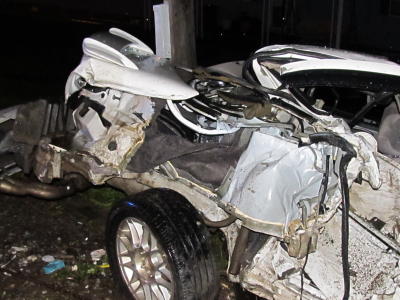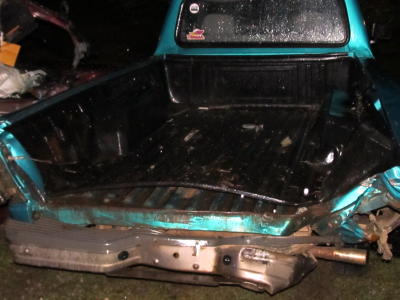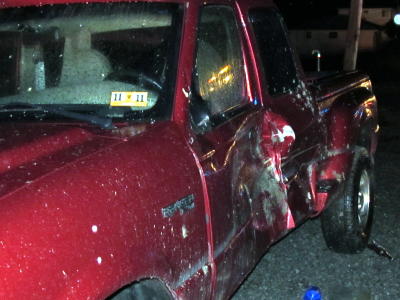 A police cruiser driven by Patrolman Rob Bradley veered to miss the five demolished vehicles, landing in a hillside area with minimal damage to the cruiser.
The driver was fleeing from Patrolman Joey Garrett and Rob Bradley at 9:22 p.m., stopping the driver in Grantsville, suspected of being intoxicated.
He was traveling at a high rate of speed, sometimes reaching about 95 mph, when he went into a sharp turn near Furr's Auto.
Reports indicate the driver was Willie S. Nicholson, 30. He fled the debris-ridden scene on foot, but police say he returned to the area and was taken to Minnie Hamilton Health System.
Nicholson, according to the report, had numerous violations and was driving on a suspended license.
Patrolman Garrett first called 911 for assistance with the chase, but a short time later the crash was reported.
The four parked vehicles belonged Sue and George Checkan, including a 1993 Ford Ranger, a 2000 Ford Ranger, a 2003 Grand Am and a 1966 Ford Mustang.
Grantsville firemen worked for a considerable time cleaning piles of debris from the highway and general area, including beer bottles strewn across the highway.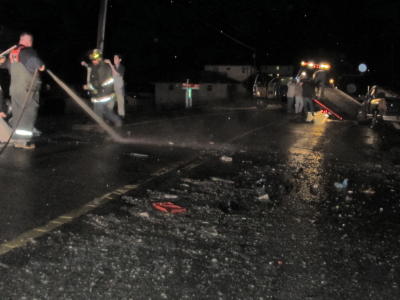 Grantsville firemen work to clear strewn debris
Grantsville Police Chief Jeff Starcher, Patrolman Joey Garrett, Patrolman Rob Bradley, Trooper S. McCullough of the WV State Police, Chief Deputy Carl Ballengee, and DNR officer Charles Stephens responded to the scene, with the Grantsville VFD and Calhoun EMS.