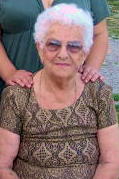 Violet Wilson Mellott, 87 of Spencer, West Virginia, passed away December 12, 2010.

She was born at Apple Farm WV, a daughter of the late Joseph and Bethel Bennett Suttle. She was a homemaker.

Surviving are her children, Laura Thompson (Wayne) of Arnoldsburg WV, Loretta Moore of Covington VA, Wanda Carpenter of Spencer, Linda Wilson (Jim) of Letherbark WV, Foster "Ford" Wilson (Jesse Hickman) of Orma WV, Randy Wilson (Sue Carter) of Orma, and Gary Wilson (Mary) of Flatwoods WV; one sister, Elizabeth Meadows; grandchildren, Vickie Knight, Velva Crites, Pat Lynch, Angella Brinxon, Tewanna Carpenter, Meagan Casto, Pat Wilson, Duane Wilson, Randy Charles Wilson, Jim Wilson, Matt Moore, Josh Moore; 28 great grandchildren; 24 great-great grandchildren; and 1 great-great-great grandchild.

In addition to her parents she was preceded in death by her first husband, Pat Wilson; her second husband, Ora Mellott; a son, Pat Edward; a daughter, Arretta; a grandson, Nicholas; a sister, Pearl Meadows; and two brothers, Eugene and Earl.

Funeral services will be held 11 a.m. Saturday, December 18 at Stump Funeral Home in Arnoldsburg. Interment will be in the West Virginia Memorial Gardens at Calvin WV.

Friends may call at the funeral home from 6 to 8 p.m. Friday.