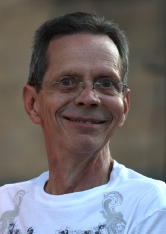 Charles Howard (Charlie) Whipkey, 63, of Grantsville, West Virginia, departed this world on Monday, December 6, 2010.

Charlie was a talented artist and florist who owned and operated Classic Creations in Grantsville. He was actively involved in the community as a former town councilman and as a current board member for the Calhoun County Committee on Aging.

As a teenager, Charlie designed the emblem for the Wood Festival and was honored during the festival's 4oth anniversary celebration for this and for his contributions to the event over the years. Charlie also designed the current county flag.

He was born September 18, 1947 to Delmas E. (Rooster) and Greta Kelley Whipkey.

He was preceded in death by his parents, and an infant sister, Ora Mae Whipkey and brothers, Billie Dean Whipkey and Edward Maurice Whipkey.

He is survived by two brothers, Lawson Carroll Whipkey of Spencer WV and Denzil Gene Whipkey of Columbia CA; three special "sisters" Marilyn Whipkey Mills of Brohard WV, Georgia Basnett Stalnaker of Grantsville and Shirley Basnett of Parkersburg WV; nine nieces and nephews and several great nieces and nephews; and his life partner, Monty R. Dolly of Grantsville.

Friends may call at Stump Funeral Home in Grantsville from 5 to 8 p.m. Thursday, December 9th, where a funeral service will be held at 7 p.m. with Rev. Carroll McCauley officiating. Interment will be in the Bethlehem Cemetery at Grantsville.