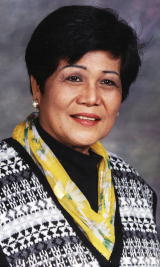 Aurelia L. Olivas, 74, formerly of Grantsville and Parkersburg, West Virginia, currently of Virginia Beach, Virginia, passed away November 25, 2010, at Sentara Leigh Hospital at Norfolk, Virginia.

Ms. Olivas and her husband, Dr. Odilon S. Olivas and their family are former residents of Calhoun, where he practiced medicine.

A native of the Philippines, she was the daughter of the late Mariano and Juliana de Leon. She was a retired registered nurse and was a member of the Catholic Church of St. Mark in Virginia Beach.

She was a devoted wife, mother, and grandmother known by many people in the community. She will be greatly missed by many family and friends who loved and adored her.

Aurelia is survived by her husband, Odilon S. Olivas, Sr.; her children, Odilon L. (Maria) Olivas, Jr. of Virginia Beach, Florence (Robert) Cirillo of Tallahassee FL, Jerome (Genevieve) Olivas of Thousand Oaks CA, Nemesio (Gretchen) Olivas of Jacksonville FL and Alexander Olivas of Atlanta GA; nine grandchildren; a brother and five sisters.

A viewing was held at Hollomon-Brown Funeral Home, Kempsville Chapel at Virginia Beach on Saturday, November 27, 2010, from 6 to 9 p.m. During that time, a wake service was also held. The family would like to thank all the wonderful support and prayers received from family and friends near and far.