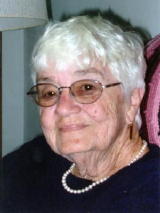 Catharine C. Virden, 83, of Chesapeake, Virginia, passed away peacefully on November 15, 2010 in her home in Chesapeake.

She was born August 22, 1927, in Clarksburg, WV, a daughter of the late John Thomas and Anna Cecelia Flynn.

Catharine attended Saint Mary's High School, Seton Hill College and West Liberty University. She was formerly employed with Calhoun General Hospital. She was active in the community and loved being around friends and family.

Surviving in addition to her sister Mary Anna Hoeft are her three sons, Roy John and wife Susan of Chesapeake, Michael Joseph of Portsmouth, Va. and Robert David who currently lives in Baltimore, Md.

In addition to her parents, Catharine was preceded in death by her husband, Roy Joseph "Joe" Virden, Jr.

Funeral services will be held 11 a.m. Saturday Nov. 20 at Stump Funeral Home in Grantsville with Father David Schmitt officiating. Interment will be at the West Virginia National Cemetery in Pruntytown.

Friends may visit and call at the funeral home from 6 to 9 p.m. Friday November 19th.