THE GREATEST GENERATION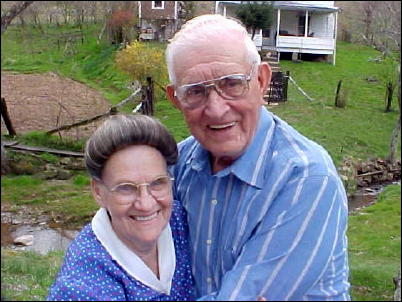 Denver and Pauline, always together since 1946, now
separated by Denver's passing November 10th
By Bob Weaver Nov. 2010
Driving down Annamoriah Creek in early Spring you would likely spot Denver and Pauline Garretson, always together, plowin' and diggin' and dropping seeds into their well-fertilized garden.
Denver, now 91, has died, his funeral set for Sunday at 1 p.m. at the Stump Funeral Home in Grantsville.
Denver, not unlike hundreds of young Calhoun men, went off to World War II, enlisting two days after the Japanese bombed Pearl Harbor in 1941.
One of Denver's compelling remembrances was walking from his hollow near Cremo during the Great Depression to Grantsville, a distance of 14 miles, to make a few bucks working for the NYA depression-era program to help put food on the table.
His military story spoke loudly of that Greatest Generation.
Denver is one of Calhoun's most stalwart citizens, his character rising above expectations, living his life close to the sod.
See DENVER AND PAULINE GARRETSON - Plowin', Diggin' And Plantin' For 59 Years, "God Has Blessed Our Marriage"
"ITS BEEN A GOOD LIFE" - Denver And Pauline Celebrate 60th
See complete obituary Denver Garretson