GEORGE HERR HAS DIED SINCE THIS STORY WAS PUBLISHED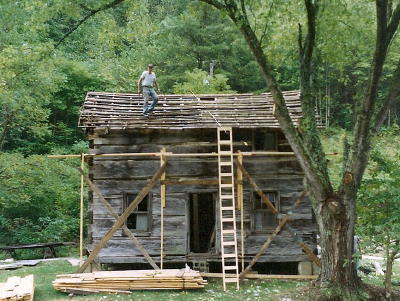 Owner George Herr working on restoring
historic cabin several years ago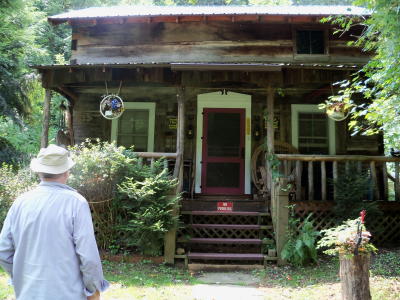 Herr admiring his hundreds of hours
of work, now a comfortable mountain home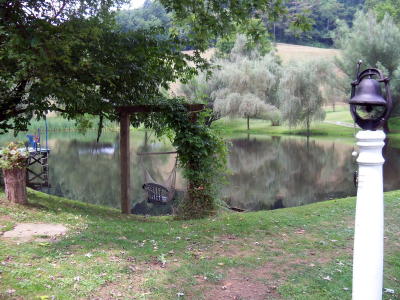 Adding to the comfort of the site
is a pond nestled between the hills
By Bob Weaver 2010
The log cabin was built in a valley between Walnut and Upper Nicut by John and Diana Hardway Arnold in 1879. The log house has some of the largest hewn timbers ever seen in a cabin.
Ohio native George Herr brought the property in 1993 from Gordon Schoolcraft and moved there in 1995, making it a major restoration project over 25 years.
The last family to live in the cabin before Herr's purchase was Rufus and Dora King in 1954, after which the dwelling was used as a barn.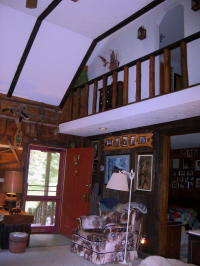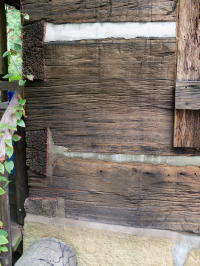 The house is full of comfort with some of the
largest hewn logs ever used in a Calhoun cabin
"I searched all over Randolph County and West Virginia for an old log house to restore," Herr said, and found this one at the foot of Little Walnut Hill.
Herr, who was a house-builder in Aurora Ohio and owned a pallet shop, is a robust 80-year-old who works most every day inside his shop near the historic structure that has been carefully restored and furnished. "It's easy to heat with these thick logs," he said.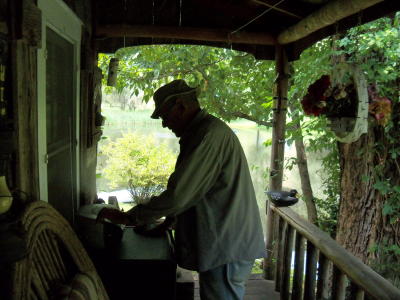 George still does a full days work on his "piece of paradise"
Sitting on the cabin porch or inside the cabin, there's a wide view of a nearby pond and the steep hillsides.
Herr said he's never regretted moving to the narrow valley, putting in hundreds and hundreds of hours on the property. "But the best thing is, I like the people. I have great neighbors," he said.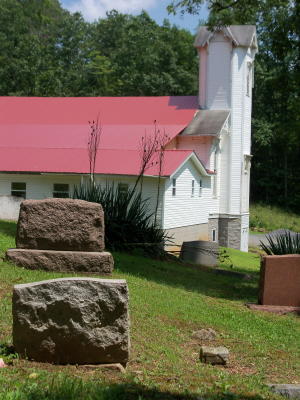 The Arnolds, original cabin builders,
repose in the Walnut Church Cemetery
THE ARNOLD ROOTS
John Arnold, who built the cabin in 1879, was the son of Charles D. and Lucretia Arnold of Arnoldsburg.
Charles Arnold was the first postmaster at Arnoldsburg (1832) and a school master, the Arnolds are among those credited with the founding of the village which goes back to 1810.
Several of the Arnolds moved up the West Fork to Nicut and Walnut to live their lives.
John Arnold (1843-1927) was a private in the Confederate army, and is buried in the Walnut Church Cemetery beside his wife.
The 1900 census shows six children living in the Charles Arnold cabin, Clinton, Pierson, Louisa, Arizona, Roxie and Hattie.